EkkoSense recently analysed some 128 UK data centre halls and over 16,500 IT equipment racks – the industry's largest and most accurate survey into data centre cooling – to reveal that 78% of UK data centres currently aren't compliant with current practice ASHRAE thermal guidelines.

The ASHRAE standard – published in the organisation's 'Thermal Guidelines for Data Processing Environments – 4thEdition' – is highly regarded as a best practice thermal guide for data centre operators, offering clear recommendations for effective data centre temperature testing. ASHRAE suggests that simply positioning temperature sensors on data centre columns and walls is no longer enough, and that data centre operators should – as a minimum – be collecting temperature data from at least one point every 3m to 9m of rack aisle. ASHRAE also suggests that unless components have their own dedicated thermal sensors, there's realistically no way to stay within target thermal limits.
"ASHRAE's recommendations speak directly to the risks that data centre operators face from non-compliance, and almost all operators use this as their stated standard. Our own research reveals that 11% of IT racks in the 128 data centre halls we surveyed were actually outside of ASHRAE's recommended range of an 18-27 ºC recommended rack inlet temperature – even though this range was the agreed performance window that clients were working towards. We also found that 78% of data centres had at least one server rack that lay outside that range – effectively taking their data centre outside of thermal compliance," explained James Kirkwood, EkkoSense's Head of Critical Services.
"Unfortunately the problem for the majority of data centre operators that only monitor general data centre room/aisle temperatures is that average measurements don't identify hot and cold spots. Without a more precise thermal monitoring strategy and the technologies to support it, organisations will always remain at risk – and ASHRAE non-compliant – from individual racks that lie outside the recommended range. That's why the introduction of the latest generation of Internet of Things-enabled temperature sensors – introduced since the initial publication of ASHRAE's report – is likely to prove instrumental in helping organisations to cost-effectively resolve their non-compliance issues," continued James.
This latest EkkoSense research follows on from recent findings that suggested the current average cooling utilisation level for UK data centres is just 34%. According to James Kirkwood: "our research shows that less than 5% of data centres are actively monitoring and reporting individual rack temperatures and their compliance. The result is that they therefore have no way of knowing if they are actually truly compliant – and that's a major concern when it comes to data centre risk management."
Addressing the compliance challenge
Given that UK data centre operators continue to invest significantly in expensive cooling equipment, EkkoSense suggests that the cause of ASHRAE non-compliance is not one of limited cooling capacity but rather the poor management of airflow and cooling strategies. EkkoSense directly addresses this issue by combining innovative software and sensors to help data centres gain a true real-time perspective through the modelling, visualisation and monitoring of thermal performance. Using the latest 3D visualisation techniques and real-time inputs from Internet of Things (IoT) sensors, EkkoSense is able – for the first time – to provide data centre operators with an intuitive, 3D real-time of their data centre environment's physical and thermal dynamics.
EkkoSense also operates a DCOP Data Centre Optimisation service to help organisations address their thermal management issues. A specialist team of thermal and cooling experts take advantage of the company's unique EkkoAir technology – the world's first Internet of Things-enabled monitoring solution – to track data centre cooling loads in real-time. EkkoAir tracks live cooling and airflow monitoring for critical CRAC cooling duty performance, enabling the 3D visualisation of actual cooling performance across the data centre room as well as entire estates. Using EkkoAir, the DCOP team can track thermal instabilities right across the data centre, enabling organisations to successfully balance their thermal profiles so that only those cooling units that need to be working are active.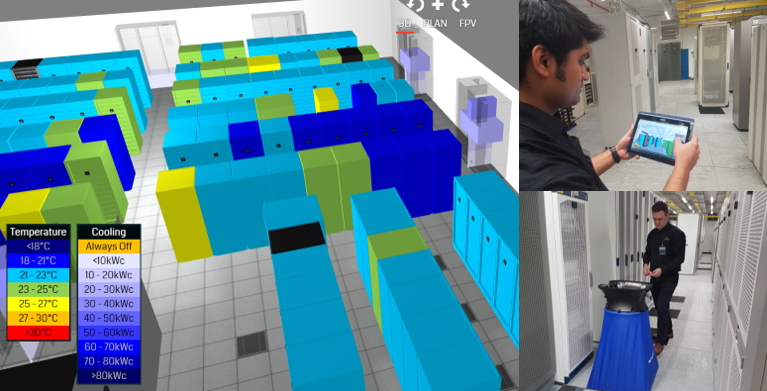 By tracking rack-level temperatures using EkkoAir thermal monitoring technology, and applying the EkkoSense DCOP process, the company has been able to restore ASHRAE non-compliant data centres to a compliant state. EkkoSense also helps data centre operators maintain compliance through a programme of regular ASHRAE audits.
Click here for more information about EkkoSense Data Centre Optimisation, and the company's distinctive approach to thermal performance optimisation.