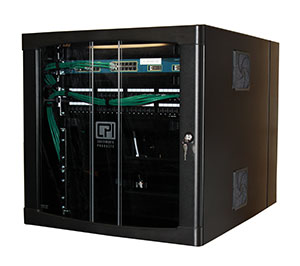 Chatsworth Products (CPI) has announced enhancements in CUBE-iT Wall-Mount Cabinet—CPI's wall-mount enclosure for securing and supporting information and communications technology (ICT) equipment.
CUBE-iT Wall-Mount Cabinet is a secure, highly functional three-part, swing-out enclosure that secures equipment while maintaining ease of access for serviceability. The cabinet now includes many design elements to enhance usability, security and aesthetics, all of which promote use in public areas.
Also broadening the cabinet's applications is CUBE-iT's increased UL® 2416 load rating of 300 lb, making it perfect to support heavier equipment.
For increased security, the rear section is only accessible via an internal latch inside the front door, while a low-decibel fan kit option provides quiet operation while keeping equipment cool. Additionally, the modern, sleek design now includes a tempered glass door option, providing an updated look with high-quality viewing panel.
Highlighting CPI's expertise in cable management is a range of features that promote effective, proper cable management. Equipment Mounting Rails (included), rear panel and a host of optional accessories feature multiple tie points for securing cable slack. The rear panel now features removable access panels with a rectangular knockout—perfect for retrofit applications over existing equipment and cabling.
"With this latest generation of CUBE-iT Wall-Mount Cabinet, our mission is to expand upon CUBE-iT's already impressive capabilities.We've realized improvements in a number of areas, broadening CUBE-iT's application outside of the traditional telecommunications room and into conference rooms, office environments and the like," says Duke Robertson, CPI's Product Manager of Open Systems.