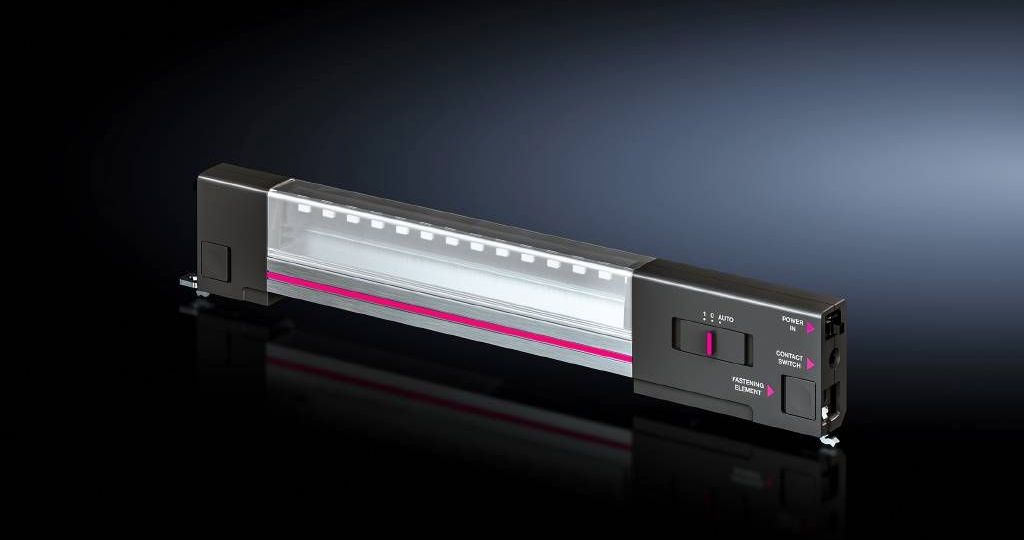 Rittal is launching a new IT LED system light. Designed for both IT network and server enclosures, the new light has an output of 600 lumens, meeting the standard requirement for racks such as the Rittal TS IT and TE 8000.
It incorporates a number of smart features. The first is in the light's transparent plastic cover which incorporates integrated Fresnel lenses. These provide optimal illumination for enclosures ensuring they are fully lit from top to bottom, precisely where needed, and avoiding light being scattered to the exterior.
Quick assembly and easy start-up
The new light can be mounted both vertically and horizontally ensuring no height units are lost within the 482.6 mm (19″) level. Its magnetic attachment means the light is quick and easy to install. It also takes up very little space.
Two different "Plug & Play" connection cables add to the speed of installation and avoid the need for a qualified electrician. The EU version of the connection cable with flat-pin connector can be used in all European countries (except the UK). Meanwhile, for international use in data centres, an additional universal cable is available with an IEC C18 connector which is compatible with all standard PDUs (power distribution units).
Global usability
The light has an IEC C18 connection cable with UL approval, designed for a wide range of voltage (100 – 240 V AC, 50/60 Hz). This means the light can be used worldwide, which reduces storage costs and makes product selection far easier.
The new IT LED light joins Rittal's wider portfolio of lights for industrial enclosures (currently available in 600, 900 and 1200 lumens).
Further information visit www.rittal.co.uk and www.friedhelm-loh-group.com