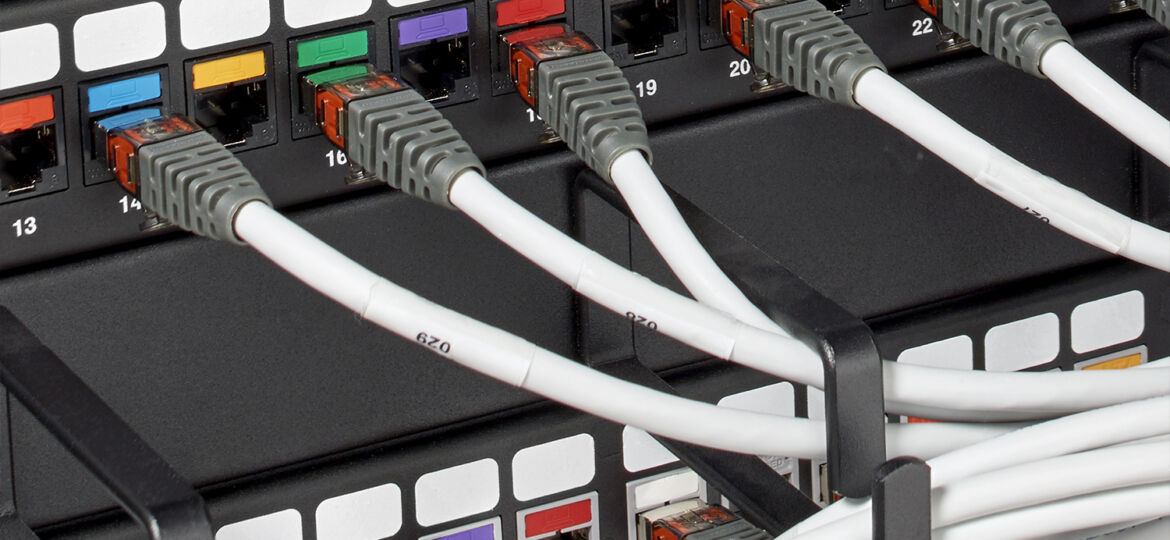 By Leviton Network Solutions Europe www.leviton.com
Category 6A cable is a mainstay of data centres and networks, and there are some simple considerations that will make installation easier…
Category 6A cabling systems have come a long way since the original augmented Category 6" standard was first introduced in 2008. Today, Cat 6A is a popular specification for a wide range of applications, including enterprise networks, wireless access points, Power over Ethernet, data centres and more.
Cabling for data centres differs from horizontal installations in several ways: typical distances, network function, pathways and spaces. Cat 6A cabling may affect requirements for all of these, but especially pathways and spaces as Cat 6A cable has a larger outside diameter (OD) than your average Cat 6 cable and is heavier. If you're new to installing Cat 6A, you can make your first projects easier with some best practices to streamline design and installation. First, you'll need to know how best to work with the cabling. Here's our advice:
Most 6A cable typically comes on reels, so be prepared with an appropriately-sized rack or cart.
To maintain Cat 6A performance, choose spray or wipe lubricants specifically designed for data communications cables. Using other lubricants can degrade performance; the majority of insertion loss failures have been traced back to the use of general-purpose lubricants.
In pathways, stronger anchors and threaded rods are needed to support heavier Cat 6A cable. Limit bundles to 24 cables (in accordance with EN 50174-2) to prevent damage to cables on the bottom.
Cable slack in bundled or excessive loops has been shown to degrade cable performance and is associated with return loss failures. Plan carefully to ensure there's sufficient space and support for Cat 6A cable slack. Be sure to check with local guidelines for requirements regarding cable slack loops.
Use Velcro fasteners to secure all cable bundles. Hook and loop fasteners won't crush or damage cables like tie wraps can, and are reusable for moves, adds and changes.
There are three typical data centre Cat 6A cable run configurations: power and data cabling both under a raised floor, both overhead, or power below and data overhead. The chosen configuration will affect other data centre design elements:
If power and communications cable are both overhead, cable trays must be properly sized, separated and configured to support 6A cables and accommodate power runs.
If both are underfloor, pedestals must be higher to accommodate larger 6A cables, room for expansion, segregation from power runs and proper airflow.
Well-organised racks and cabinets are essential. Angled panels, narrow-plug patch cords, and symmetrically distributed cable bundles will all help reduce cable congestion. The larger Cat 6A cable OD, tight twist rate and thicker conductor insulation make termination a little challenging. Tool-free jacks make for easier termination, and pair separation towers make it easier to set the wire pairs into position.
Cat 6A installations will add new alien crosstalk (AXT) tests to the familiar roster of requirements. These tests can be time-consuming, so budget extra test time for this. Use an industry-recognised field tester capable of testing to 500 MHz. Contact the test equipment manufacturer for any necessary hardware or software upgrades, including AXT testing capabilities, for testing Cat 6A installations.