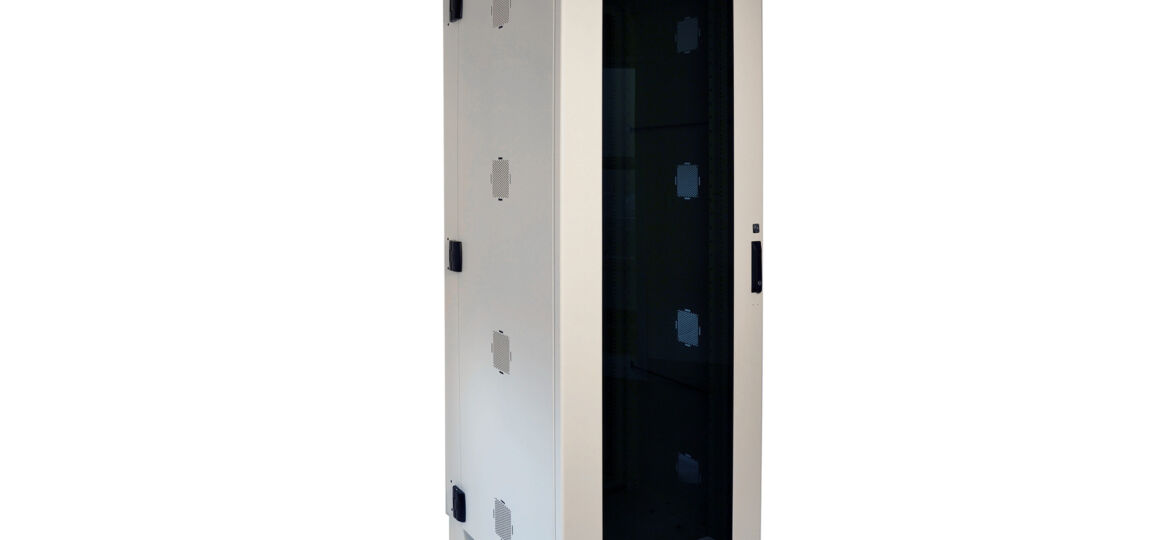 New Design Features Improved Security and Equipment Support
The newly redesigned CUBE-iT™ Wall-Mount Floor-Supported Cabinet by Chatsworth Products (CPI) secures and protects large information and communications technology (ICT) and audiovisual equipment while saving valuable space.
The three-part, swing-out design delivers exceptional strength and rigidity, and includes two heights and depths to support a variety of larger server-converged equipment, heavy-duty UPSs, batteries and Power over Ethernet deployments.
CUBE-iT Wall-Mount Floor-Supported Cabinet can be attached to the wall to swing open from the right or left, and provides easy access to the front or the rear of equipment. A single lock and key on the front door provides access to the cabinet. The rear section is only accessible via an internal latch inside the front door, further safeguarding equipment. The cabinet body is supported on the floor by an attached wheeled base.
The new Glacier White colour option gives cabinets a highly reflective finish, helping to provide better visibility.
Features of the cabinet include:
Space-Saving, Sturdy Design – Floor-supported design protects and stores larger amounts of equipment in busy areas with limited floor space.
Robust Equipment Support – High load rating supports up to 1000 lb (453.6 kg) of equipment. Includes two pairs of square-punched equipment mounting rails for front and rear support and the award-winning Clik-Nut® Hardware Kit.
Airflow Options – Multiple fan options match any heat load requirements.
Various Cable Management Options – Rear panel is pre-punched with knockouts for conduits and features cable tie points. A wide variety of optional cable management accessories help keep cables organised.
CUBE-It is also available in a smaller, wall-mounted version. Both options are ideal for offices, schools and other busy areas with limited spaces where equipment protection is needed.
For more information and a detailed list of features and benefits, visit the product page.