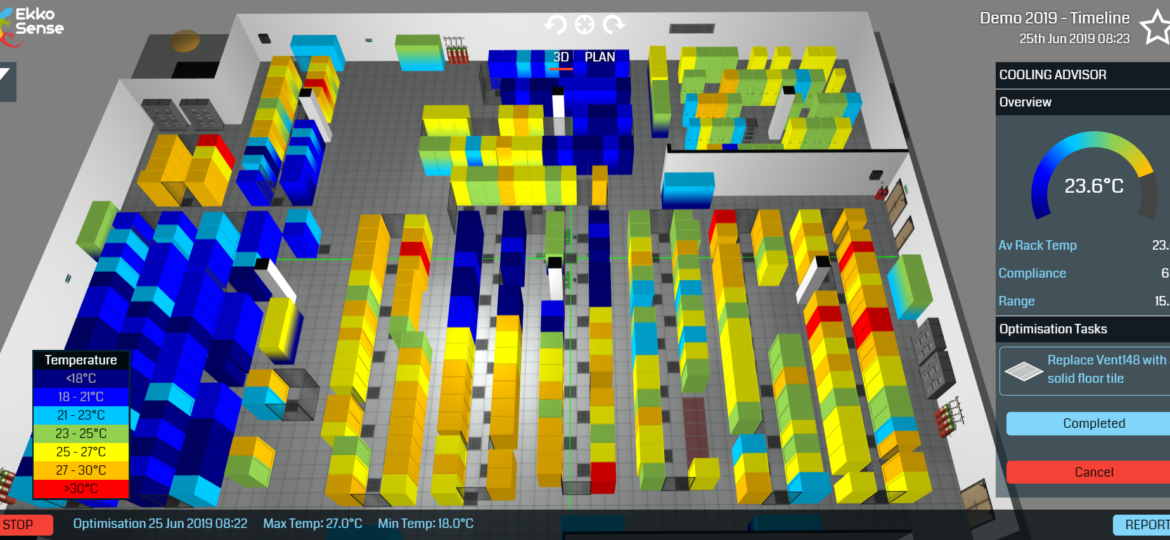 [et_pb_section admin_label="section"] [et_pb_row admin_label="row"] [et_pb_column type="4_4″][et_pb_text admin_label="Text"]
New EkkoSoft Critical v5.0 embeds best practice 'Cooling Advisor' to enable data centre operations teams to secure cooling energy savings just by acting on advice from SaaS


'It's like having a dedicated thermal optimisation consultant working in your data centre 24/7" – Dr Stu Redshaw, CEO, EkkoSense

EkkoSense, the leading M&E Capacity Planning, Monitoring and Simulation specialist for critical live environments, has introduced a unique intelligent 'Cooling Advisor' capability as part of its major new EkkoSoft Critical V5 SaaS software release.

Cooling Advisor builds on EkkoSoft Critical's proven real-time data centre M&E Capacity Planning and Simulation functionality by providing operations teams with specific cooling performance recommendations and advisory actions to monitor, manage and maximise their data centre's operational performance. Just by following Cooling Advisor's advice, organisations are able to secure ongoing average data centre cooling energy savings of 10% (avg) – without the requirement for specialist data centre thermal optimisation services.

Once EkkoSoft Critical's Cooling Advisor mode is selected, Cooling Advisor works to identify data centre floor tiles or grilles that need changing, provides guidance on immediate adjustments to cooling set points, and also advises on those CRAHs (Computer Room Air Handlers) that aren't actively cooling, are in competition or that could be suspended or modified respectively. By effectively translating PhD level thermal analysis into simple, easy to understand recommendations, Cooling Advisor helps ensure that data centres stay optimised despite the daily operational activity, moves, adds and changes and other business drivers that can quickly work to unravel previous optimisation efforts within a data centre.

"With Cooling Advisor we're introducing the world's first advisory capability built right into the heart of a thermal optimisation software solution. Uniquely, this allows our EkkoSoft Critical platform to provide data centre teams with clear recommended actions that will help maximise their data centre's operational performance," commented EkkoSense CTO, Dr Stu Redshaw. "We believe it's exactly this kind of accessible, practical intelligent software insight that can make a real difference for data centre operators in-house – giving them much greater control over their critical facilities and significantly reducing the risks associated with potential thermal failure. And, unlike traditional DCIM or expensive consultancy-led CFD approaches, it means that organisations can secure tangible cooling energy savings just by acting on Cooling Advisor advice."

Entry point to effective data centre performance optimisation
Organisations should see the average 10% of cooling energy savings achievable with EkkoSoft Critical's Cooling Advisor capability as just the entry point into effective data centre performance optimisation. "EkkoSense customers already achieve an average 25-30% reduction in their data centre cooling costs, and that's only likely to increase when we further evolve our proposition to embrace the kind of fully autonomous cooling we're already achieving for our beta customers," added Dr. Stu Redshaw.

To take advantage of Cooling Advisor, data centres need to ensure they have a rack temperature sensor on all their racks, as well as EkkoAir Wireless sensors deployed to provide real time cooling duty performance for any CRAC/AHU units. These can be fitted in moments and enable EkkoSoft Critical's Cooling Advisor capability to track thermal instabilities across individual data centre rooms as well as broader data centre estates.
[/et_pb_text][/et_pb_column] [/et_pb_row] [/et_pb_section]