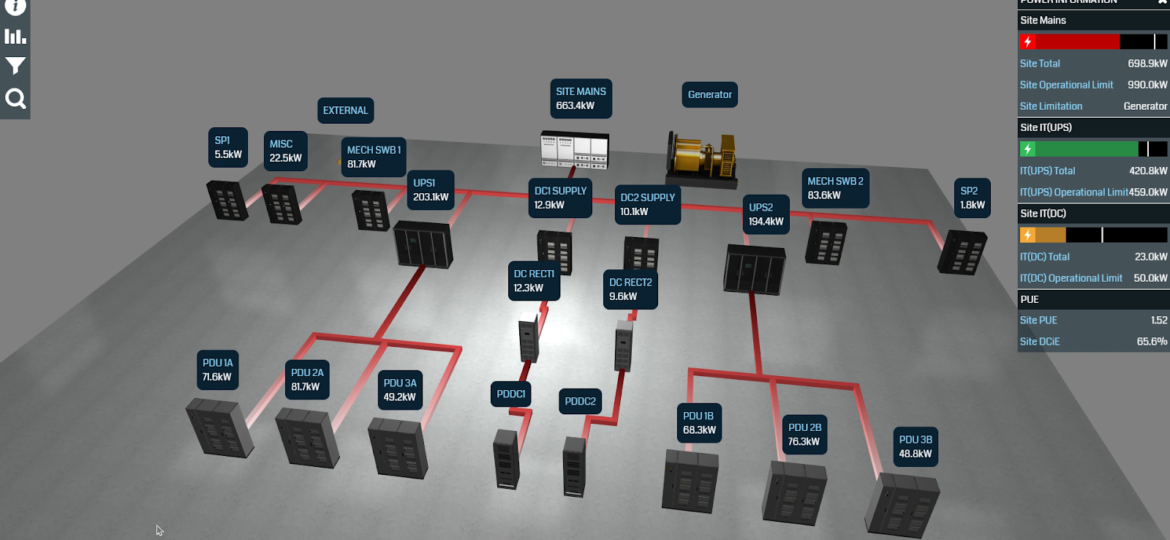 Unique 3D power schematic visualisation simplifies capacity planning by tracking detailed rack power and associated PDU usage across entire data centre estates
Data centre performance specialist EkkoSense has launched Site Power View – to simplify capacity planning by using unique 3D power schematic visualisation to display data centre power usage in real-time.
Introduced to support the EkkoSoft Critical software's real-time M&E capacity planning for data centre power, cooling and space requirements, Site Power View delivers a detailed analysis of UPS, DC and cooling power use both at an individual room level – as well as cumulatively across entire data centre estates.
"Site Power View directly addresses the requirement for real-time monitoring and planning of data centre power. Using a distinctive 3D power schematic visualisation it provides both data centre IT and facilities management teams with immediate insight into rack power usage and associated PDU utilisation across their estate," explained EkkoSense's Head of Product Management, Paul Milburn. "With the new functionality our latest EkkoSoft Critical 6.0 release goes beyond traditional reporting to offer true capacity planning at a fraction of the cost of more expensive and complex traditional DCIM and BMS solutions."
Milburn continued: "Previously data centre teams would have needed a combination of DCIM tools, outputs from their BMS, and multiple unwieldy spreadsheets to gain an understanding of power usage from a whole site perspective. Site Power View in EkkoSoft Critical 6.0 dramatically simplifies this entire process, with comprehensive power overlays and immersive 3D visualisations that not only display power usage, but also clearly show how power is being distributed and used from room to room. These full Site Power View schematics are critical for effective capacity planning, enabling smarter and faster capacity decisions across connected rooms."
Site Power View's 3D visualisations enable the creation of a series of Interactive Reports covering Power Usage, Power Usage Breakdowns and Power Capacity across the entire data centre estate. Site Power View monitors both rack power usage and associated Power Distribution Unit (PDU) utilisation and indicates spare power capacity where available.
EkkoSense solutions are available directly, or through the company's expanding network of international partners across the US, Europe and Asia Pacific.