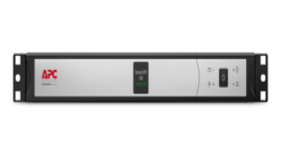 Schneider Electric has announced the availability of 230V models of its short-depth APC Smart-UPS line interactive UPS Lithium-ion battery technology models for European markets. The new versions make Lithium-ion battery back-up technology an economic solution for edge computing applications and other installations inside and outside purpose-designed IT environments.
The new APC Smart-UPS models meet a range of European challenges from space limitations and mixed-use areas for IT systems, to lifecycle requirements for ease of installation, access and maintenance, together with demands for more physically compact and lightweight infrastructure equipment with lower maintenance requirements.
Designed to deliver ultra-resilient power protection for IT equipment and network devices, the new APC Smart-UPS line interactive models are able to deliver increased battery life for lower Total Cost Ownership (TCO): Li-ion technology offers savings of up to 50% when compared with Uninterruptible Power Supplies (UPS) utilising traditional Valve Regulated Lead Acid (VRLA) batteries. The new Smart-UPS are offered with a full 5-year warranty covering electronics and batteries.