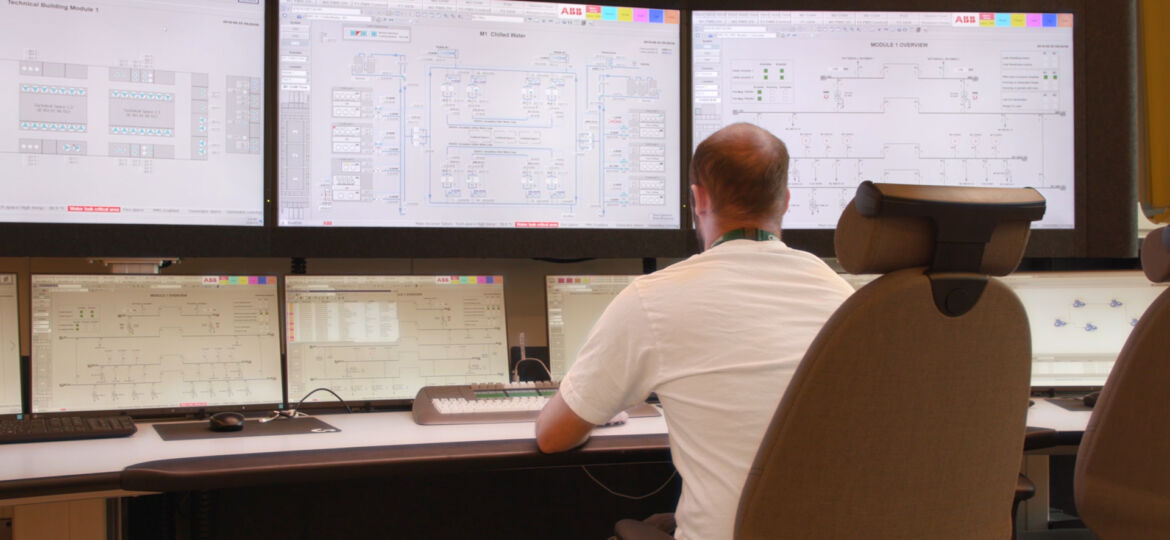 As the demands for efficiency and capacity increase for data centres, Ciarán Flanagan from ABB discusses the role digital solutions have to play in ensuring their sustainable future
Data centres have evolved from a few servers sitting in the closet of an office building to 50+ MW dedicated facilities. But data centres today are not just larger, more power-hungry commercial facilities, they are part of the fabric of our digital lives.
Data centres manage critical data for global communications, financial transactions, government services, business operations and entertainment, with technologies such as 5G and the Internet of Things pushing data center demands to new levels of complexity. As IT loads become more dispersed and fluid, the facilities that power them will have to be much more adaptable.
From a size and criticality perspective, modern data centres have much more in common with industrial facilities – power plants and oil refineries, for instance – than they do with the office buildings where they were born.
Given this fact, it seems natural that industrial-grade automation systems should be used to monitor and manage data centres.
Data Centre Automation
Industrial automation systems are robust systems that can scale from small to extremely large and from simple to extremely complex. They are designed to talk to all kinds of equipment using many different protocols and are used in continuous operation over long periods, even while being upgraded. Furthermore, industrial systems are cyber-secure, needing to comply with the rigorous standards set in the various industrial environments in which they operate.
This shift to industrial-grade automation is critical for data centre companies trying to meet aggressive sustainability targets. Indeed, you can't truly optimise the efficiency of your data centre without a holistic view of the system.
Data Centre Automation (DCA) enables inefficient power and water usage to be identified and automates reporting to track progress and compliance.
Lakeland Community College in Kirtland Ohio USA stands as a clear example of how digital data centre operations are directly linked to improvements in sustainability. With the demand for a new, sophisticated data centre with more space and more configurable flexibility, the school's data centre was relocated to a new campus facility and out of a server room into a dedicated space.
In line with the mandate that all new campus buildings must be LEED (Leadership in Energy and Environmental Design) certified, a Data Centre Automation solution which provides reporting on energy use, was implemented to help the campus achieve its sustainable operation objectives.
By being able to analyse cooling data, they determined in the first few months of operation that the data centre could reduce overall air conditioning demand by adding containment walls to its server rows and nearly a decade after moving into the new facility, have credited the DCA solution with helping to reduce the facility's energy usage by more than 53 percent.
In addition to supporting improvements in energy efficiency, Data Centre Automation can also be used to manage the integration of cleaner energy into a facilities operations, a solution which has been adopted by one of the world's largest telecommunications network equipment suppliers, Ericsson, for its Global Information and Communication Technology (ICT) Center in Rosersberg, Sweden.
The vast data center spans over 20,000 sqm but all three of the site's control subsystems – the BMS, smart power management system (PMS) and energy management system (EMS) – can be monitored and controlled from one room.
Digital solutions enabled Ericsson to automate and control operations not only across hardware and software systems but also across power, cooling and energy management systems. This enabled them to integrate the data centre with the nearby city of Rosersberg to conserve resources, recycling the heat thrown off from the data centre to provide heat and hot water to local residents.
In return, they obtain cold water back from the city to help cool the centre's servers. Efficient management of these thermal transfers through Data Center Automation is critical and has resulted in a 40 percent reduction in energy usage alongside reductions in operational and capital spending.
Every Watt Counts
As data centres continue to grow in size and number, owners and customers have a major incentive to manage their energy use wisely. It is estimated that energy accounts for up to 40 percent of the total cost of ownership of a data center.
If centres do not employ digital solutions to become more efficient and innovative, their growth could be constrained by overloaded national power grids. It seems therefore that every watt counts, not only for the sustainable operations of their facility but for their ability to continue operating.