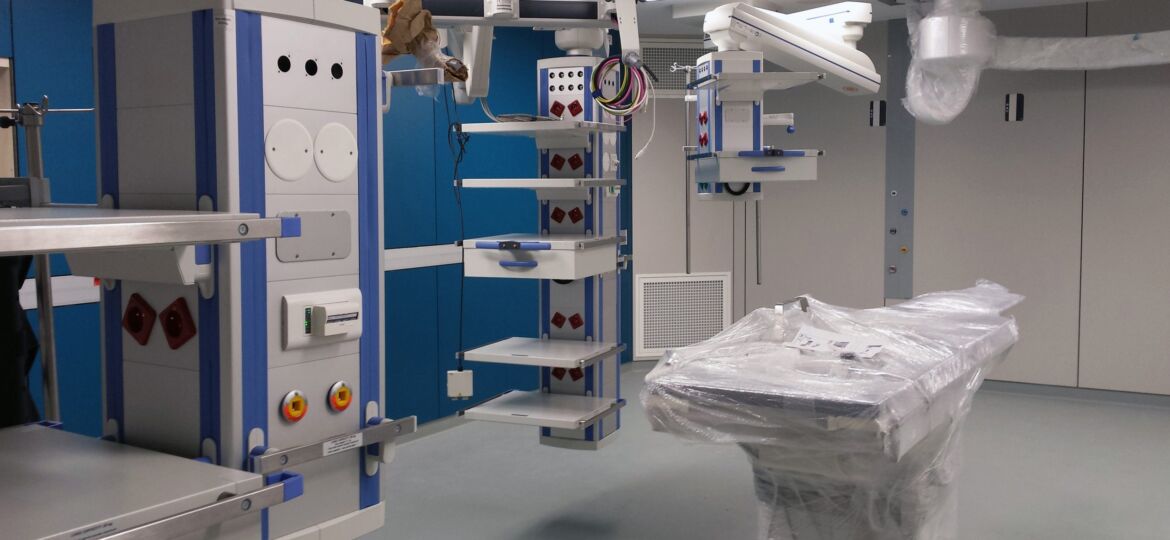 by Jan Middeldorf. Senior Product Manager, Nexans Advanced Networking Solutions
New technologies are helping manage healthcare costs and boost effectiveness and efficiency. As more digital solutions are introduced, bandwidth demands will continue to soar. IoT is an important driver for this, along with innovations such as remote diagnostics and consulting and telemedicine.
How to ensure network infrastructure keeps up?
More healthcare applications and devices are converging and migrating to IP-based Ethernet networks. These provide an integrated monitoring and control platform supporting data, WAP, VOIP, IPTV, security, video, communications servers, Picture Archiving and Communication Systems, and Hospital / Radiology Information Systems as well as other applications and devices, from ECGs to VPNs.
However, these innovations add very little value if the network can't keep up with demand for (symmetrical) bandwidth, uptime and latency. In addition to increasing data volumes, healthcare facilities everywhere are facing challenges in the areas of limited budgets. That requires smart decisions.
Installing and scaling up networks in a medical environment is complex. In most installations, the emphasis is on getting optimal technical performance, flexibility and future-readiness at a reasonable cost. However, in healthcare facilities, patient and process safety and security are paramount. Hospital architecture, security issues and device interference make network design and implementation particularly challenging. Cabling may be exposed to chemicals and high levels of electromagnetic interference, and to temperature variations as it passes between rooms. It also needs to meet stringent Infection Control Regulations (ICR). Installers have to ensure standards of cleanliness are maintained, and avoid introducing dust or bacteria, which can significantly impede their work.
What's more, in offices or schools structured cabling and network equipment can be installed or extended at night and on weekends, whereas hospitals are operational 24/7/365.
Connectivity is an important part of treatment as well as patients' experience; so medical professionals, patients and visitors all require access to networks. Hospitals also face specific challenges related to wireless LAN, such as interference with diagnostic and other equipment. Although wireless signals can normally pass through walls and floors, medical facilities feature building layers and spaces dedicated to facilities such as oxygen and backup power. Furthermore, there are security risks to consider, as sensitive patient data is handled and networks are often (partially) open to the public.
Convergence and standards
One approach to dealing with these challenges is convergence. By bringing facilities together, it becomes possible to reduce service duplication, centralise expertise and resources and improve integration of care. Further benefits of convergence include scalability, efficiency and supply chain and cost management. However, this consolidation places new demands on working methods, hospital design and IT infrastructure.
Standards provide performance benchmarks, help ensure uniformity across the infrastructure and are essential to enabling convergence. IEC 80001 and IEC 60601-1, for example, define hospital risk management, particularly with regard to implementation and management of IT Networks, medical devices and systems and the safety and security of medical electrical equipment and systems for diagnosis, treatment or patient monitoring. The ANSI/TIA-1179-A Healthcare Facility Telecommunications Infrastructure Standard makes it possible to introduce a converged platform that allows multiple IP-based networks using optical fibre, Twisted Pair, and coaxial cabling to share a digital backbone. This standard specifies cabling distances, types, topologies and pathways and focuses on avoiding interruption of medical processes.
Further recommendations
Cabling systems are mission-critical in healthcare environments and need to support several generations of devices and software, so their lifecycle should be as long as possible. This requires best-in-class products, compliance with current relevant industry standards, use of qualified installers, warranties from installers and manufacturers, and an automated cable management system, incorporating remote diagnostics and repair functionality.
Today, it is vital that networks can scale up easily, with regard to footprint as well as number of users. Medical facilities may need to scale up structurally, when a hospital is built out, or merges with another facility, or they may have to add temporary capacity in response to a crisis situation. Of course, 'new' infrastructure needs to meet the existing specifications in the area of bandwidth and reliability, latency and ease of use, without overspecifying, overspending, or rendering the network hard to manage. Scaling up a LAN is far more complex than simply adding new devices. Factors to consider relate to compatibility, interoperability, management, security and maintaining bandwidth and latency. When adding a large number of ports, to accommodate more devices, or cover a larger area, delays between server and end user, due to network reserves being stretched, can result in system-wide delays, or even unavailability If a very large number of devices are connected to a WAP without sufficient backbone capacity, bandwidth can become so 'diluted' that it becomes unusable.
In an environment offering patient care reliability and redundancy levels can never be high enough. Different device types, standards, protocols and so on shouldn't be mixed, as even the smallest incompatibility can introduce management, operation and security issues. An ideal solution should offer maximum flexibility for expansion and a long useful life, through multiple technology upgrades. Investment costs and networking needs should be balanced in a 'pay as you grow model', to avoid making costly expansions and ending up with underutilized capacity.
Choosing the right solution
When building out an installation, it is vital to take the following points into consideration:
Do you have existing copper infrastructure in place? Is there ample space for equipment and no need for redundant capacity in the foreseeable future?
In that case, it's perfectly viable to stick with a copper-based solution, and if necessary add more port capacity with port extensions.
Is space for floor distribution hardware lacking or do you want more flexibility to adapt the network to ever-changing healthcare service needs?
Fibre to the Office (FTTO) is an option to consider when you want to have an expandable, agile network. This combines fibre speed, reliability and long distance coverage with the benefits of standard Ethernet.
Do you need to increase cost-effectiveness by reducing, for example, installation, monitoring and maintenance costs, or space requirements?
Ample fibre can boost ease and efficiency, increase flexibility in terms of bandwidth and Moves Adds and Changes, lower space and cost requirements and offer possibilities such as storage, transfer and analysis of big data, patient monitoring and HD camera support, off-site medical consulting, and converge entertainment and communications services onto a single system.
Will equipment be placed in a space that requires compliance with special requirements for medical devices and systems?
Devices and network solutions compliant with relevant standards such as IEC 80001, IEC 60601-1 or ANSI/TIA-1179-A are available.
Will cabling run through areas where it might be exposed to chemicals, gases, interference, extreme temperatures or bacteria?
Cabling and devices such as switches specially designed for use in specific medical environments are available. These can be introduced in specific parts of the network and are fully compatible with 'regular' devices and standards.
In short, a mix of different technologies is often needed to address the different requirements from the operating theatre to the patient services to the requirements of the shop in the foyer. Infrastructure design and technology must accommodate highly specific demands and the complex requirements of converged environments need to be taken into account.