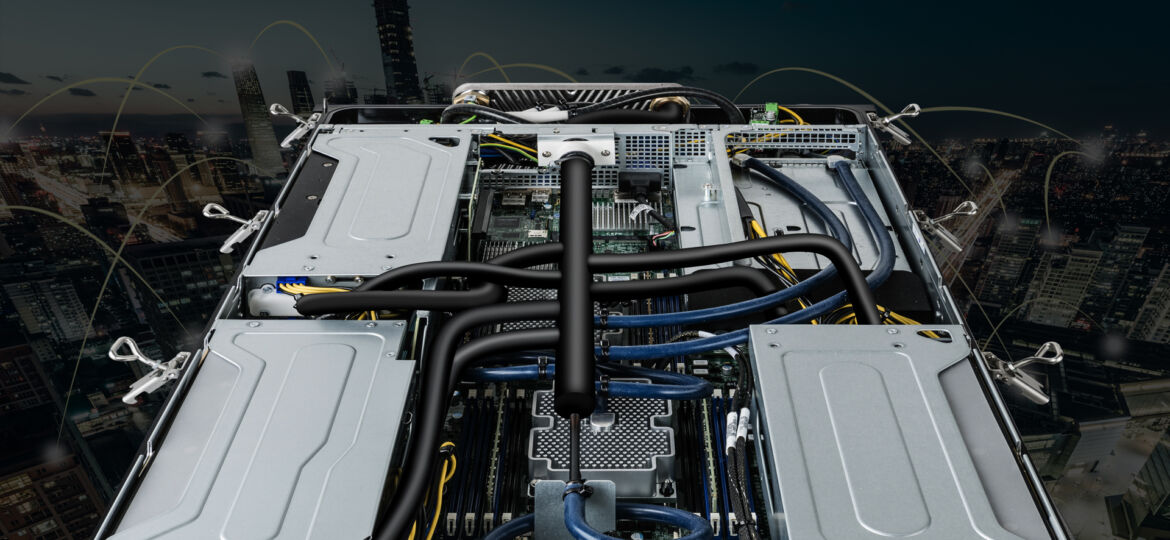 Iceotope cooling technologies has announced in conjunction with partners Schneider Electric and Avnet, it is to deploy its chassis-level immersion liquid cooling technology at EcoDataCenter's new colocation facility in Falun, Sweden. Once installed, EcoDataCenter, the world's first climate positive data centre, will become the first colocation service provider to offer chassis-level immersion cooling technology for customer's hosted IT loads.
Developed by Iceotope, the chassis-level immersion cooling solution will enable 46kW per rack, with the core technology capable of scaling to future-proof power densities of 100kW plus. Liquid cooling can improve chip and hard drive reliability by providing a lower stable operating temperature, as well as increasing the available white space by eliminating the requirement for hot aisle/ cold aisle layouts. Importantly, the cooling arrangement enables high-grade heat to be captured for reuse in a local renewable energy scheme.
"EcoDataCenter has embraced this innovative new technology as an early-adopter, knowing that companies in the market will soon see the operational and environmental benefits, and follow our lead," said Lars Schedin, CEO of EcoDataCenter. "The integration of Iceotope, Schneider Electric and Avnet liquid cooling enables us to set ground-breaking, new industry standards for energy efficient, high-availability data centres. Together we are empowering customers to take action for a more sustainable future."
With an operating PUE of 1.03, analysis of chassis-level immersive cooling shows significant CapEx savings of 14% and at least 10% energy savings, when compared with traditional air-cooled approaches for a 2MW facility. Over a 20-year period, this provides a reduced Total Cost of Ownership (TCO) of 11%.
David Craig, CEO of Iceotope said, "Chassis-level immersion cooling offers colocation, hyperscale and edge computing environments a practical and industry-leading solution for cooling high-density, critical IT loads. We're delighted to be working alongside EcoDataCenter where our liquid cooling technology is helping to deliver reliable IT services with little or no impact on the environment, whilst helping to reduce costs associated with energy usage even further."