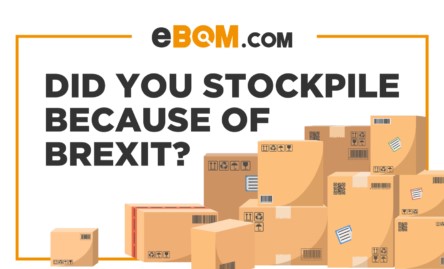 By Amy Leary, Marketing Manager at eBOM.com
For those who may not be aware, the United Kingdom held a referendum vote on its relationship to the EU back in 2016. With virtual guarantees that the United Kingdom would remain in the EU – it came as a shock that by a slim margin, more of the public had voted 'leave' by a majority of 52% to 48%. The impact of the surprise vote caused lots of uncertainty with UK citizens and has caused industries to become very challenged. The United Kingdom leaving the European Union on Jan. 31, 2020, ten months after its initial scheduled departure has caused a major geopolitical shift. This caused many UK companies to panic buy their stock to prevent access taxes and border gridlocks. However, with COVID-19 circulating the globe, are those organisations that stockpiled ahead of Brexit now in favour?
AO World, the online electronics retailer, has stockpiled around £15m of its most popular products in the latest move by a UK company to brace for a potentially chaotic Brexit, according to the Financial Times. However, it's not just the electronics industry which is affected. The problem is that the UK currently imports around 40% of its food, of which a third is from the EU. This has resulted in a large quantity of the food retail industry to work with their suppliers to plan ahead to avoid any disruption caused by Brexit. Over the last few years in the UK, Brexit has been the most talked about topic due to the uncertainty and frustration of what the future holds. With preliminary talks ongoing about Boris Johnson's new Brexit proposals, the deal is 'essentially impossible' according to The Telegraph. According to the BBC, the UK manufacturing sector contracted in May for the first time since July 2016 as stockpiling eased ahead of Brexit. The research, by IHS Markit/CIPS, said firms found difficulty convincing clients to commit to new contracts.
Border Gridlock
According to the Guardian, UK manufacturers' stockpiling for no-deal Brexit hit record levels. This is because there was a high concern that there would be border gridlock which would slow down the process of transportation of goods globally. The concern of border gridlock was caused by a no-deal Brexit which led British manufacturers to increase their stockpiling efforts. Another quote from The Guardian, 'Britons have spent £4bn stockpiling goods in case of no-deal Brexit'. The Government's own assessments showed that the flow of goods through the channel crossings could be reduced by 40-60%. With COVID-19 circulating the globe, many borders have severely restricted travel and made it very difficult for citizens to travel and transport packages.
UK Manufacturing
Despite uncertain economic trends, the electronic components industry within the United Kingdom may have seen a positive effect from Brexit. UK customers may have panic purchased electronics from their home soil which would have benefited UK suppliers and manufactures. UK manufacturers will likely have received more orders on electronics as a substitute to purchasing slightly cheaper electronics from overseas. UK manufacturing is becoming more and more popular to potential customers due to high level of control over quality, reduced delivery times and greater control over communication. During the height of Brexit talks last year, many individuals will have avoided purchasing from overseas completely due to talks of border gridlock.
China is known as the capital for manufacturing and supports many global companies due to its relatively low-cost production rates and high-quality products. According to South China Morning, Coronavirus originating in Wuhan has sent agricultural commodity prices tumbling and led to extended shutdown of Chinese factories and markets. Quoting from PBS, the risk is that when the global supply chain is disrupted – most recently by the shuttering of factories due to the virus in China – many companies have few alternatives to fall back on. That is especially true of smaller and medium-sized companies that do not have operations in multiple countries. To solve this, some companies have announced they are shifting their operations to other countries, largely in Southeast Asia. An overwhelming majority (84 percent) of electronics manufacturers and suppliers are worried about the epidemic's impact on their business operations. Delays in receiving supplier inputs can lead to factory downtime, higher average costs, transportation bottlenecks, pressure for alternative sourcing, delayed sales, and delayed prototyping that slows the introduction of new products. According to BBC, factory activity in China fell at a record rate in February, as manufacturers closed their operations to contain the spread of coronavirus. This is another reason why organisations who stockpiled from Brexit may be in favour with the circumstances we see now. If companies stockpiled on products to keep their business ticking over for a few years, they most likely would not have been affected by the virus or the delays that come with it.
COVID-19
It was January 30th, 2020 when the International Health Regulations Emergency Committee of the World Health Organisation declared the outbreak a "public health emergency". On March 11th, 2020, the World Health Organisation confirmed the Coronavirus a pandemic. It was no surprise the UK was placed on lockdown. For the thousands of UK companies who stockpiled due to Brexit, they are likely to be in a more fortunate position than other companies. This is because Covid-19 has caused lengthy delays and potentially halted production on many overseas electronics. The virus has already caused many knock-on effects for the global economy. From lengthy manufacturing time frames to fewer sales, there is global fear of the economy slowing down to a halt. According to City A.M, Bank of England governor Mark Carney has said the economic shock from coronavirus "could prove large" but sought to reassure the public that it will "ultimately be temporary". Stated by Economic Times, coronavirus could cost the world $1 trillion. The worrying prospect that the Covid-19 outbreak could become the first truly disruptive pandemic of the globalisation era is renewing doubts over the stability of the world economy.
Stockpiling prior to Covid-19 would have been a coincidentally clever move due to lengthy delays and shortages of products which occurred from the virus. Many factories in China temporarily closed due to Covid-19 which created substantial lead times of around six weeks globally. An article from IPC published earlier this year stated electronics manufacturers anticipated at least a five-week product shipment delay from suppliers due to the coronavirus epidemic, according to a survey conducted by IPC, a global electronics manufacturing association. The group says shipping delays from China and other countries where the virus has spread are already having negative impacts on manufacturers. Roughly 65 percent of manufacturers reported their suppliers expect, on average, a three-week delay. However, electronics manufacturers expect delays to be longer than what their suppliers are currently quoting. On average, executives expect shipment delays to be at least five weeks. "The delays will likely have ripple effects for the rest of the year," said John Mitchell, IPC's president, and CEO. "The longer China is affected by the epidemic, and the more it spreads to other parts of the world, the supply chain will experience more and varied strains and disruptions."
Summary
Stockpiling prior to Brexit was a clever move as there was strong uncertainty on how the vote would affect the economy. Some of the products we're accustomed to having all year round could be harder to come by or cost more to buy. It would have been a good idea to buy the items to be sure you have easy access to them and at a good price. – especially with the virus affecting oversea deliveries. However because they may have stockpiled high quantities of products these companies might not have not been able to shift them as much as they would like, resulting in excess stock.