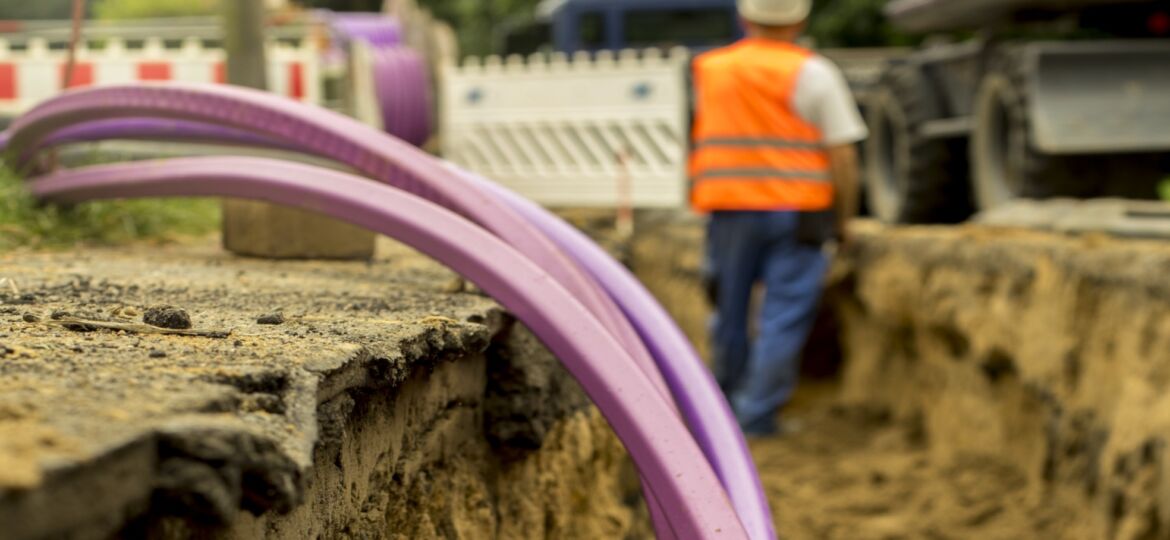 Hermann Christen, Market Development Manager R&M
In logistics, the term 'last mile' refers to a short distance that needs to be spanned in order to reach a final destination. In telecommunications, the 'last-mile' refers to the very last stretch of cable, wiring or even a wireless connection from the last point (usually a street cabinet) in an outdoor fixed network to inside a home or business. Bridging that last section is often costly, for a variety of reasons, such as gaining access and right of way, civil works, or architectural constraints. There are several options for getting the final link in a transmission network into a building. Knowing what the various standard types mean can help you make the best decision.
The standard GR-3155 (Generic Requirements for Single/Bundled Microducts and In-Living Unit Cable Pathways) lists three typical methods for placing cable into a duct:
Pull-in ropes are pre-installed by the duct manufacturer
Pulled into the duct using a mechanical or hand-drawn pull line.
Blown into the duct using a high air volume cable blowing apparatus.
Another commonly used method is aerial cable installation, where fibre is deployed above ground on towers or poles, removing the need for digging.
Universal-use, or UD-Q, cables are designed for indoor and outdoor applications. These cables can handle outdoor operating conditions whilst also meeting requirements for indoor use, for example in the area of fire safety. U-DQ(ZN) or U-DQ(BN) cables are suitable for pulling into ducts. For shorter outdoor runs we recommend armoured cables with glass roving (which provides a certain degree of rodent protection) of type U-DQ (BN) loose tube cable equipped with a Fire Retardant Low Smoke Zero Halogen (FRLSZH) outer sheath. Low Smoke Zero Halogen (LSZH) cable jacketing is made of thermoplastic or thermoset compounds that emit only a relatively small amount of smoke and no halogen at all when exposed to elevated levels of heat.
The most important mechanical properties for cables used in pulled applications are tensile strength and dead weight. We recommend Polyethylene (PE)-sheathed cables, as PE has excellent surface properties and sliding properties (low frictional resistance) for all outdoor applications. PE is sufficiently resistant to all chemical influences that direct-buried cables might conceivably be exposed to.
Blowing cables into pre-laid ducts is the most economical installation method for buried cables. Cables used for blowing should be lightweight, preferably slim, and have a certain stiffness. The outer sheath should offer excellent sliding properties. Finally, the relation between inner diameter of the duct and outer diameter of the blow-in-cable is crucial to obtaining satisfying blow-in lengths. Micro cables type A – D2Y with a loose tube of 1.2 mm (4 fibres) or 2.0 mm (12 fibres) / 3.0 mm (24 fibres) are optimized for the blowing process thanks to their low weight, optimum stiffness and minimal outer diameter. Unlike with pulled cables, strain relief and resistance to high tensile forces are not necessary.
As rodents shouldn't be able to get into ducts, pulled or blown fibre cables don't need additional rodent protection. However, this isn't the case with 'direct buried' cables. Rodent-damaged cables are often found in locations where installation cables transition into buildings. This type of damage can seriously affect the reliability of indoor and outdoor fibre cables. These generally have a relatively small diameter, making them more vulnerable to chewing rodents than other telecommunication cables.
As direct buried cables are laid directly into the ground, without a duct, these need to offer a high level of crush resistance and be rodent secure. Longitudinal water tightness is a prerequisite. Bearing in mind to the likelihood of elevated moisture levels, transverse pressure load and rodent infestation, we recommend corrugated steel tape armoured cables of type A – DQ (ZN) (SR) 2Y or the double sheathed version A – DQ (ZN) 2Y (SR) 2Y. Ideally, sheathing should be made of High Density Polyethylene (HDPE), a thermoplastic polymer produced from the monomer ethylene.
Aerial cable installation is the most economical installation method for the 'last mile'. One advantage is the fact you can use existing poles. However, the requirements for aerial cables are significantly higher than for buried cables, as they are continuously exposed to environmental conditions.
It is recommended that air cables are encased in either UV-stable HDPE or then FRLSZH outer sheathing and are designed for a temperature range of -25 °C to +70 °C (a black surface under direct sunlight reaches +70 °C relatively easily). In aerial drop applications, being all dielectrically and self-supporting are essential. U-(ZN) H type cabling with its straightforward construction can traverse span lengths of up to 70 m.
In addition to the necessary high tensile force, other influences must also be taken into account, such as ice load, vibration, UV resistance, temperature cycling behaviour, cable weight and cable diameter and sag.
When laying out or expanding fibre networks, the last mile is generally the most time-consuming, costly part. Cables need to be flexible, lightweight, robust and easy to install in order to keep time and cost investments within reasonable limits. Knowing which cabling categories work best in which applications points you in the right direction. Of course, there are many other variables to take into account, and often different types of cabling are used in different zones in a project. To avoid overspending and working with exaggerated specifications, it's definitely worth consulting with an expert.