Supermicro Green Data Centre Report: https://www.supermicro.com/en/white-paper/datacenter-report
In today's data-driven economy, businesses and data centres are facing the battle of efficiency; finding the balance between an efficiently-run data centre which can handle the exponential amounts of data being produced every minute, yet also being aware of the environmental impact of the performance, scale and value of the installed servers.
While only about 12 percent of today's data centres are green, or environmentally friendly, in recent years IT managers have learned that a more sustainable approach to IT infrastructure would help the environment by reducing e-waste, plus it would save data centre operators millions of dollars. The question is, how can data centres run an energy-efficient operation and still meet the performance expectations of global businesses when data usage only continues to escalate?
Green Data Centres
Green data centres are designed to minimise energy use and environmental impact, and are architected to use less electric power, which provides significant cost savings in comparison to a traditional data centre. More and more server suppliers, for example, have focused on helping data centres to improve energy efficiency by reducing e-waste and costly overheads significantly.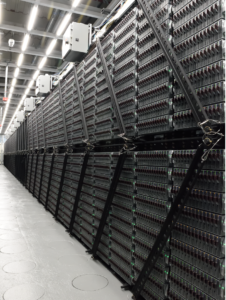 Increased Rack Power Density & Resource Saving Architecture
IT managers are constantly seeking suppliers of high-performance, cost-effective and energy-efficient products for their data centres. A very effective way to optimise data centre power, cooling, shared resources and refresh cycles is by utilising resource-saving architectures. This overall design uses a disaggregated design to enable server resources to be refreshed independently to eliminate the costly refresh cycles so commonly known to data centre operators.
Implementation of this architecture has resulted in significant reductions in hardware costs and Power Usage Effectiveness (PUE). A 2019 green data centre survey from Supermicro indicated that refreshing server processors and memory following the rapid improvement cadence for silicon, while updating other server subsystems far less often, can annual performance and efficiency improvements to at least 15%. As a result, corporate compute demands and company goals are met while CAPEX savings can be equal to $900K per year for an average sized data centre.
In addition to this Supermicro initiative of disaggregated resource-saving architecture, data centre operators should be aware of rack power densities in their journey to be more green. By fitting more servers into a smaller space, systems such as multi-node servers or blade systems utilise shared power and cooling infrastructure (power supplies and fans) which can result in 10-20% more efficient computing than traditional rackmount servers.
Cooling Technologies
Another opportunity for green power effectiveness are cooling technologies. In the data centre, cooling solutions are used to maintain optimal operating conditions. However, the cooling and power equipment used in data centres contribute to increased energy usage, making technologies to maintain sustainable and efficient cooling increasingly important.
One technology to reduce data centre electric power is free-air cooling. Many data centres currently cool the hot air generated by servers by using refrigeration equipment. However, by using outside air, or free-air cooling, energy and cost savings can be significant. In the 2019 Supermicro green data centre survey, respondents from the IT industry indicated that many data centres are adopting this cooling design. Within the survey, data centre server inlet temperatures were studied as a measure of green data centre free-air cooling to reduce PUE and increase green power efficiency. It was reported that 51% of respondents operated their data centre temperatures between 21°C – 24°C. At the time of the survey, the average data centre temperature was between 23°C-24°C.
In addition to the free-air cooling method, liquid cooling is becoming more popular. This approach can be more efficient than standard air cooling. Liquid cooling solutions significantly reduce data centre power consumption and Power Usage Effectiveness (PUE), and can increase the processing performance per square foot beyond what is possible using air cooling techniques, which in turn increases data centre capacity.
Warm-water cooling solutions enable high-density server racks, with high-performance server systems, to realise significant reductions in PUE. In comparison to traditional forced-air cooling, liquid cooling methods can reduce Total Cost of Ownership (TCO) by up to 50% due to improved fan and power supply efficiencies.
Outlook
According to Supermicro's 2019 green data centre report, only 12% of the world's data centres are green. Therefore, the opportunity for the industry to significantly reduce the environmental impact of data centres, while achieving incredible cost savings, is not only huge but vital in the fight to save our Mother Earth. With the right education, the right attitudes and the right technology, that low percentage can increase. Green data centres have the potential to reduce environmental impact by over 80%, equivalent to saving enough energy to keep the lights on in Las Vegas for 37 years.
Now, how cool would that be?