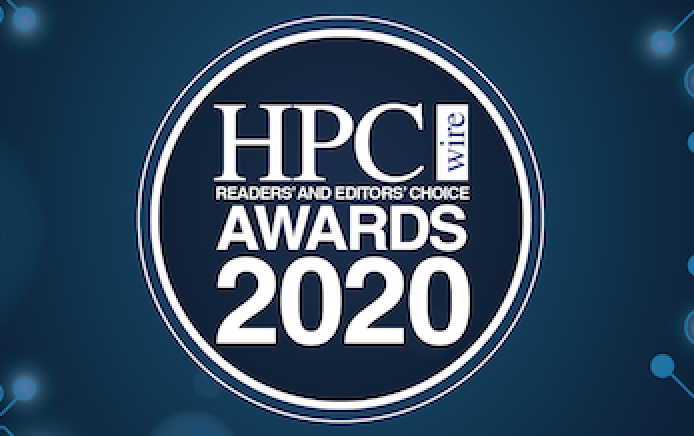 The Cloud Infrastructure for Microbial Bioinformatics (CLIMB) project has been recognised in the annual HPCwire Readers' and Editors' Choice Awards, presented digitally during the virtual 2020 International Conference for High Performance Computing, Networking, Storage and Analysis (SC20) via HPCwire.com.
CLIMB was recognised with the Readers' Best High Performance Computing Collaboration award for its role supporting the COVID-19 Genomics UK (COG-UK) Consortium. This UK-wide partnership is sequencing SARS-CoV-2 virus genomes to understand the spread of the virus and advise local and national control strategies. CLIMB has proved pivotal to this, providing the computing infrastructure and bioinformatics analysis capability that has so far helped sequence over 100,000 virus genomes.
CLIMB was launched in 2014, supported by a grant from the Medical Research Council (MRC) to meet the needs of medical microbiologists handling the vast amounts of data coming from high-throughput genomics. It is an open, cloud-based computing infrastructure for developing and sharing datasets and bioinformatics software, tools and methods to interpret Big Data.
It is a partnership between the Universities of Bath, Birmingham, Cardiff, Leicester, Swansea and Warwick, the London School of Hygiene and Tropical Medicine and Quadram Institute Bioscience. As well as giving access to the resources and computing power individual researchers or groups don't have, CLIMB provides training courses to help researchers make the most of its capabilities.
CLIMB established itself as a national capability for microbiologists, with a community of over 900 users at universities, research institutes and public health organisations across the UK. In early 2020, UKRI awarded £2million for the follow-on project, CLIMB-BIG-DATA, to ensure the longer-term sustainable provision of the platform and maintain its position at the cutting edge of bioinformatics to combat infectious diseases and other challenges to global health.
This meant that the CLIMB-BIG-DATA infrastructure was ready and able to support the response to the global COVID-19 pandemic.
On March 23rd, the UK Government and Chief Scientific Adviser announced a £20 million initiative to map how COVID-19 spreads and evolves. The COG-UK Consortium is led by the Sanger Institute and involves partners in the NHS, public health and academia. CLIMB's pre-existing infrastructure and expertise allowed the consortium to launch quickly and fulfil its aim of delivering rapid genome sequencing data of the SARS-CoV-2 virus strains being detected as the pandemic spread. Insights from those data have informed national decision making of the Scientific Advisory Group for Emergencies (SAGE) as well as the local public health level, including monitoring outbreaks in real-time.
Professor Mark Pallen from the Quadram Institute, and director of the CLIMB-BIG-DATA project said "The CLIMB-BIG-DATA infrastructure exists to support the bioinformatics needs of the UK microbiology community. It's been great to see how our infrastructure and our team have been able to respond so quickly and effectively to the national and international challenge of understanding and controlling the spread of COVID-19".
"Each year we look forward to connecting with our HPC community while recognizing exceptional industry innovation at SC. While it saddens us that we cannot physically connect with one another this year, we take great pride in bringing the community together through our new digital format for the Reader's and Editors' Choice Awards," said Tom Tabor, CEO of Tabor Communications, publisher of HPCwire. "This pandemic has brought our community together in ways we never imagined possible. The recent collaborations, innovative research, and breakthroughs in technology have not gone unnoticed. It is through these critical HPC efforts that we may address and mitigate the impact of problems facing humanity today and those that may challenge us in the future. We congratulate and honor all who have exceeded expectations and have truly excelled despite the challenges this pandemic has presented in 2020. Our congratulations go out to all the winners and nominees. We hope to see our community face to face next year to celebrate in person!"