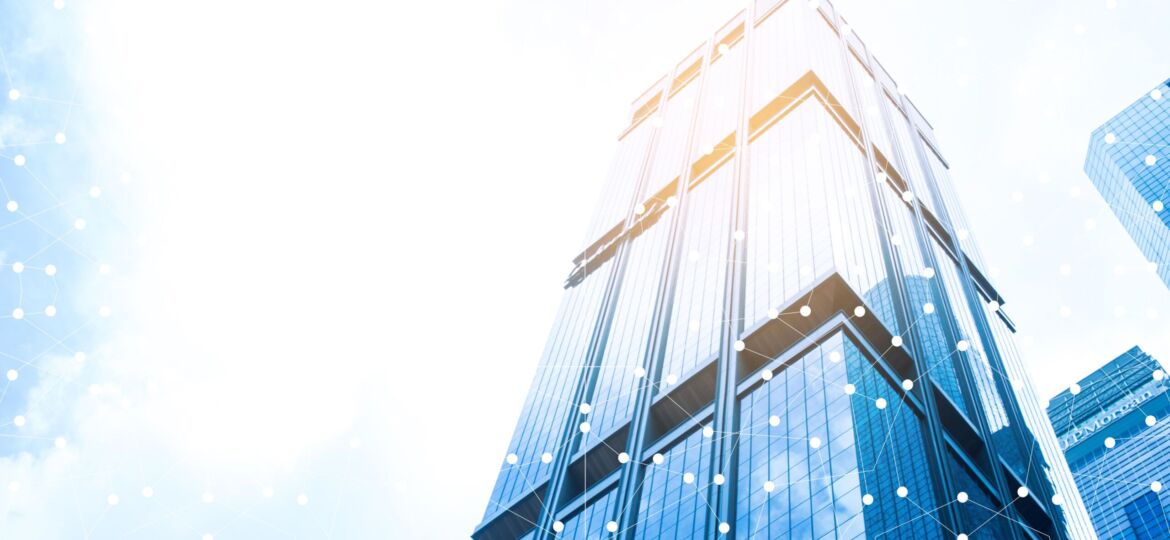 Digital transformation is changing every industry, buildings and industrial plants are being redefined by their data infrastructure. This was a key theme during the We Connect. virtual conference where Panduit and seven of our Smart Building infrastructure partners discussed a range of technology enhancements arriving at an intelligent building near you soon.
The 4th Industrial age is driven by technology through the combination of data and the internet of things (IoT). We are seeing IoT becoming interconnected with all the building automation systems and with industrial control systems. For the first time organisations can bring all this data together, analyse it and drive it out to the physical world to create easy to use and control environments, be that office buildings or industrial factory floors.  
The two foundational pillars of digital transformation and the physical infrastructure are convergence and wireless proliferation. Convergence is taking all these disparate systems and bringing them together. Many of these systems will require power and we are also moving toward Power over Ethernet (PoE), and now power over Single Pair Ethernet (SPE). We are combining power and data to reduce infrastructure complexity and leverage organisational opportunities.  
Seamless Interoperability
Wireless proliferation throughout buildings needs to operate seamlessly with their wired counterparts. The first devices to converge onto the network were voice and data, way back in the late 1990s, and now 100% of these systems are IP enabled. Today, about 50% of security, cameras and access devices are IP enabled. Building Automation is around 40%, and we are beginning to gain traction with PoE lighting and other sensing devices in offices and on factory floors. 
Seventy-five percent of the building stock available today are dumb buildings, 60% of these are older than 60-years. What does that mean? These buildings were not designed to be IP enabled. More than likely they do not have structured cabling to the density we need to take advantages of the latest intelligent building technology. We have a long way to go and many opportunities to grow this market as organisations build out this capability.
Industrial space has been transformed over the past decade, in 2010 Industrial Ethernet was a very difficult conversation to have with customers. Manufacturing is conservative in its approach to technology, as its prime objective is to ensure that production remains operational. Today, 50% of the devices being placed onto the plant floor are IP enabled, which is a huge difference in ten years. By 2018, industrial Ethernet was on the floor in 50% of applications, and we are seeing continued growth year on year. In fact, the industrial space now leads the building automation space by about five to ten years.
Digital buildings are those that interconnect different building subsystems with the goal of creating a workspace that is more efficient, more cost effective, more profitable whilst increasingly user friendly.  Intelligent buildings are going to drive standardisation, specifically Ethernet standards utilising structured cabling. It will also drive interoperability, so integrating all the subsystems to share critical data effectively. These systems will need to integrate with external systems through APIs which allow data exchange between devices. 
Image 1 – 4th Utility
Intelligent buildings incorporate solutions that attract premium tenants. These buildings must offer clients exceptional experiences and more efficient workspaces. New applications simplify management of multiple building solutions, offering control through a 'single pane of glass'.  The IP Network is becoming the 4th utility and is critical to the success of a smart building and the organisation that occupies it.
Data and Power Together
PoE simplifies the way we run power to devices and is a critical element of the infrastructure of an intelligent building providing the capability to control systems remotely. The technology has been available for some time and with each evolution we see it gaining higher adoption. 
Legacy infrastructure in older buildings may not have the cabling that will allow data and power to share the same space. When considering PoE close attention must be paid to the cabling infrastructure to ensure that it can adequately support the needs of the application. 
Drilling down into the design criteria that supports that solution, the path of the physical infrastructure typically represents 5-10% of the total project spend. Failure to specify the correct PoE cable for your applications at the beginning can leave you susceptible in the future.  This is demonstrated in the fact that between 60-70% of all network problems that occur are related to the physical infrastructure. 
Image 2 – Considerations
To alleviate this possibility, I offer four main recommendations: 
How to thermally dissipate the heat that develops in the cable bundles?

Transmitting data and power together generates more heat in the cable. This needs to be dissipated otherwise over time the network quality will be degraded, reducing device performance.  

We recommend bundle sizes of 24-cables; this ensures that heat is dissipated effectively. We also recommend using Cat 6a cable, for the additional capabilities of the higher gauge cable. 

Electrical Arcing 

When a device or cable under power is unplugged arcing (electrical sparks) can occur. Over time arcing will derogate the contacts gold-plate and possibly deposit carbon on the plug and reduce performance of the connection. The latest connectors and plugs are designed to eliminate the arc point from the contact area and minimise the risk of signal deterioration over time. 

Horizontal Cable Distribution 

We recommend that designers plan for zone topology utilising a consolidation point. Previously, layouts meant that cables spread out from the comms room, however, the expansion in cable runs increases cabling complexity.  Zone topology using 24-cable bundles reduces cable infrastructure pathways congestion and using a consolidation point allows cables to be brought into a local switch. The switch is then connected to the home run to the telco room. 

Direct Connection Equipment

The latest standards allow for direct connection and new plugs, such as the field terminated plug (FTP), are allowing quick and easy direct connection to any device that requires a powered link. These pre-configured cables and plug sets reduce labour and time at the implementation of the device and also simplify maintenance processes.
Wireless Proliferation 
Wi-Fi 6 was introduced in 2018, to provide low latency and high density, similar to 5G although targeted within buildings. This latest technology has seen mass adoption within intelligent buildings, and this will continue growing as we move forward, until next technology step, Wi-Fi 7, appears. To maximise an organisations investment in building Wi-Fi, Panduit believes there is a key recommendation that we urge you to consider.
4 Cat 6a Cable Deployments
To future proof the investment we advise pulling four Cat 6a cables to every access point. This will prepare the environment for the necessary changes and upgrades that the building will require to remain optimised. Without this, as the Wi-Fi requirements within buildings increase cabling upgrades and new cable runs will be required. This increases cost, possibly causes system performance reductions and network downtime.
Conclusion
Digital transformation is growing and changing our workplaces and many of our processes and practices. Understanding the current PoE capabilities and future capacity requirements for your organisation is essential. This will allow strategies to be created that optimise your intelligent building and make use of the latest PoE and IoT technologies to support your high-performance organisation.