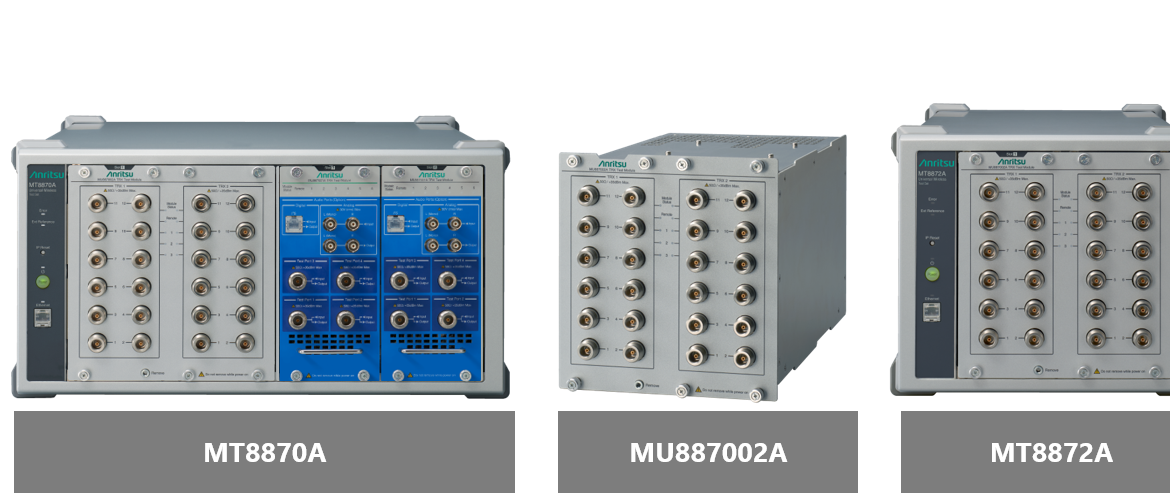 Anritsu Corporation has announced the simultaneous launch of its TRX Test Module MU887002A, designed to improve the efficiency of production-line inspection of wireless communications devices, including 5G, and its space-saving Universal Wireless Test Set MT8872A.
With 24 RF connectors, the newly developed TRX Test Module MU887002A is a TRX module for installation in both the MT8870A and MT8872A. It supports 5G Sub-6 GHz New Radio (NR) RF tests, as well as various other simultaneous wireless communications tests, including WLAN, Bluetooth, and GNSS. As such, this makes the inspection of wireless communications devices on the production line much more efficient.
The MT8872A is a measuring instrument designed for use in mass production and is fully compatible with the MT8870A. Its small footprint is designed to be used in narrower spaces than the standard 19in rackmount, saving space on crowded production lines.
Designed to meet the needs of manufacturers of chipsets, smartphones, wireless modules and other wireless products, Anritsu expects these new MU887002A and MT8872A solutions to save space and cut costs on production lines for wireless communication devices.
The numbers of 5G smartphones and subscribers continue to rise as commercial cellular 5G services start operations. In addition, more antennas are being built in to each 5G wireless device to achieve both higher speeds and greater capacity.
Wireless-device manufacturers need to test more antennas and are demanding a tester that can be used on the production-line to shorten inspection times.
To meet this demand, Anritsu has developed the TRX Test Module MU887002A with 24 RF connectors per module and the space-saving Universal Wireless Test Set MT8872A. These products meet manufacturers' needs by improving the inspection efficiency of 5G wireless communications devices.