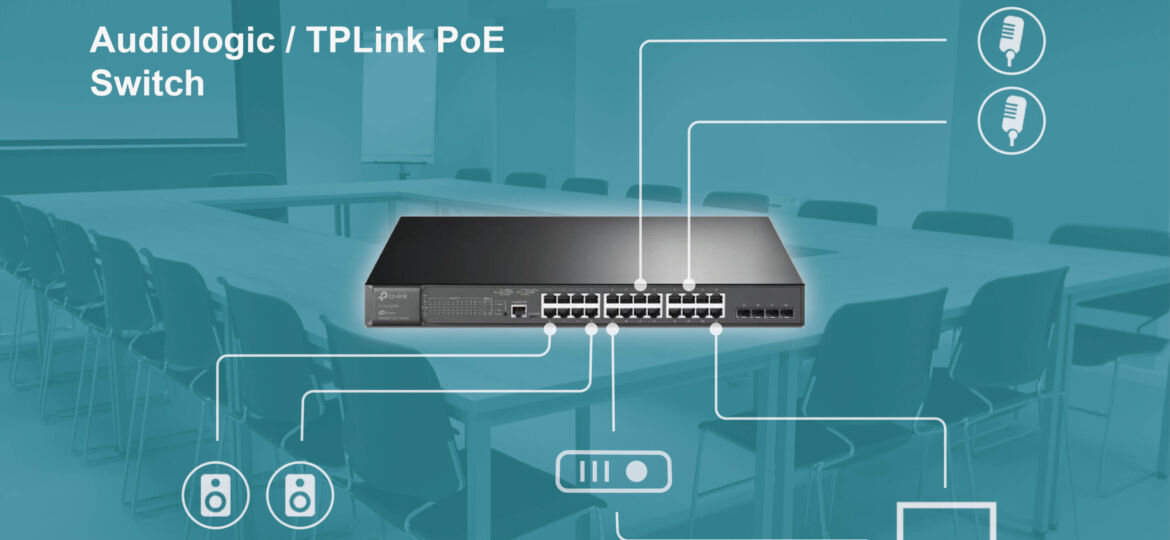 Audiologic, distributor of professional audio-visual solutions and TP-Link, a provider of consumer and business networking products, has announced a UK technology collaboration. This delivers a turnkey network solution optimised to support the deployment and performance of business-class AV systems, through a range of pre-configured PoE+ switches.
Networking has become an essential part of modern AV, with a huge rise in products based on IT standards and protocols. Audiologic identified the need amongst its customers for an accessible networking solution that could be implemented by AV engineers, with little prior technical knowledge of professional networking. The network solution offers the community a way of making networking plug and play.
The two companies joined forces to optimise a selection of TP-Link UK's business-class PoE+ switches to power and support the level of AV traffic from professional deployments. Typically, this includes microphones, loudspeakers, processors, computers and cameras. A custom pre-configuration written specifically for professional AV installs was developed by Audiologic and integrated into TP-Link UK's TL-SG2210MP – JetStream 10-Port Gigabit Smart PoE Switch with 8-Port PoE+ and T2600G-28MPS – JetStream 24-Port Gigabit L2 Managed PoE+ Switch with 4 SFP Slots.
"Partnering with TP-Link UK has enabled us to develop a bespoke, AV-based networking solution. We saw an opportunity to help our customers deploy more solutions, faster, creating an offering that saves AV engineers both time and money. These fully configured switches act as the centre to any AV solution, and continues to develop our portfolio of products." said Ben Spurgeon, Senior Application Engineer at Audiologic.
Equipped with IGMP Snooping and L2/L3/L4 Quality of Service (QoS), the T2600G-28MPS and TL-SG2210MP are both optimised for audio and video applications that are able to enhance AV traffic management through fast transfers of important data – even under heavy network loads. With a total power supply of 150 W, the TL-SG2210MP offers 8× Gigabit PoE+ ports and 2× Gigabit SFP Slots. For larger AV installations, the T2600G-28MPS provides 24x Gigabit PoE+ ports, supplying up to 384W total power to 802.3at and 802.3af devices.
Will Liu, Managing Director at TP-Link UK said, "Seamless audio-visual experiences are essential to the productivity and success of many businesses today. By combining our business-class hardware with the AV expertise and knowledge of Audiologic, we are able to provide a unique opportunity to push the boundaries of our technology and deliver custom switching to meet the demand for AV solutions. This partnership will provide support and simplify installation experiences for engineers and integrators, as networking becomes increasingly at one with AV systems both now and in the future."