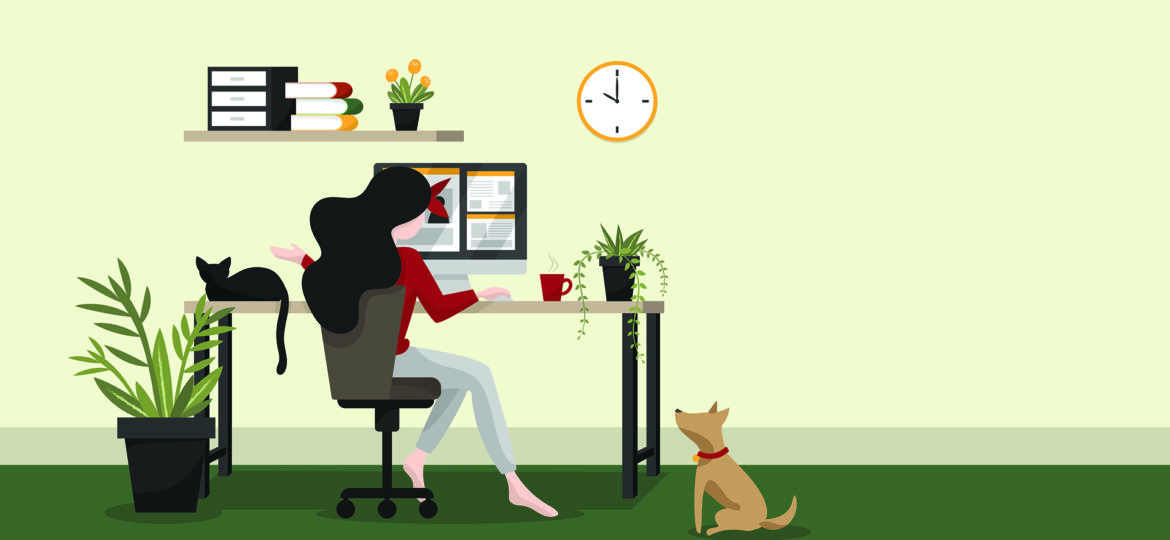 By Duncan Ward, Chief Executive Officer, Enreach UK
"Hi honey, I'm home!" was a familiar refrain as commuters returned from work after a day at the office. Since the beginning of the pandemic, however, for many employees, the commute has changed to a short stroll from one room to another.
Working from home has become the new normal and survey responses from employees in many industries have backed up that it's unlikely many will ever return full time to the office. And why would they? Technologies that allow smooth and effective remote working have been embraced by the more forward-thinking companies in recent months.
As we now plan for long-term offsite working, supporting remote staff while ensuring client needs are met is a new challenge and one that has brought the relationship between employee and employer into sharp focus. Trust has taken on a greater significance, as bosses have less physical oversight of the whereabouts of their staff.
Yet as employers learn to put their faith in their employees to work remotely, is there a risk of companies taking advantage?
Expected tools to do the job
Imagine walking into an office as an employee to be faced with an empty desk except for a laptop. You connect to the work network, only to find it too slow to support your video call. You find it strange the phone doesn't interrupt you – then you realise you don't have a desk phone. Your personal mobile rings, it's your boss, wondering why they can't make out what you're saying on the video call.
Let's face it. It just wouldn't happen. And yet, millions of us have tested our home's IT infrastructure to the limit throughout the pandemic. Even to the most savvy homeworking networks integrator, the term 'IT infrastructure' seems too grandiose.
We take for granted those tools that we need to effectively do our jobs: business-grade broadband, stable networking, a desk phone or work issue mobile, or both.
With those in place, it's easy to control the quality of service to clients. But the question is, are employers wrongly assuming that our home setups are up to scratch?
Many employees have fallen foul of the accidental appearance of a child on an all-too-serious Teams or Zoom call, or remarked on an item of curiosity in the background, or struggled to understand garbled conversation on a patchy connection. Video calls have become the norm, to the extent that the simple phone call seems impersonal – why not look them in the eye, even if they are frozen on screen?
Furthermore, the working day has shifted around personal priorities. Staff may log on earlier and finish earlier, or work into the evening after a morning of childcare commitments. But how do we acknowledge and properly reflect that across an organisation?
The combining of our home and work lives has put enormous and varied pressures on employees, expected to do the day job using a work issue laptop, a work mobile if you're lucky and residential broadband.
In and out of lockdowns, Zoom calls, home-schooling, online gaming, and binge-streaming the latest box set means that most people's home broadband has been left creaking under the strain.
Recognising the new normal
Pre-pandemic, many employers with office-based staff would allow a degree of flexibility and home-working. And for those odd occasions, the current average home setup would suffice.
But as we enter a world where remote working could make up a large part of an employee's normal pattern, should conscientious employers be investing in smarter remote working capabilities?
Of course, conversely, there may be companies that will expect employees back in the office asap, unconvinced of the validity and potential benefits of employees working at home. But these excuses are wearing thin.
When enabled to be, an employee is arguably more productive away from the office. Travel time is avoided, including to meetings. Without the distractions of the office, efficiency is improved and with the proper connectivity and cloud solutions offering the chance to remain undisturbed across all connected devices, a true work-life balance can be achieved.
Reliance on physical infrastructure
Companies with multiple office locations will be well versed in ensuring those sites and employees are connected. But what happens when you take away that infrastructure? Taking the desk phone as an example, at the start of the first lockdown we knew of many companies who sent their employees home with their desk phones, to replicate their office setup, connecting them to the company system through a physical connection to home Wi-Fi routers.
The problem they encountered, however, was that when in the office, the phones received both power and a connection via a single Ethernet cable. At home, it was a different story clearing warehouses full of separate power adapters in the rush to get employees connected at a moment's notice.
We've recently engaged with a number of companies now recognising that the world of work has changed, exploring the possibility of rolling out robust business broadband at employees' homes. We've seen enquiries from customers recognising the importance of a fool-proof home working setup, adding IT solutions and softphone functionality, allowing calls to be made and received through an employee's laptop, alongside a 'traditional' desk phone.
Always on is not always ok
If the pandemic has taught us anything, facilitating improved connectivity for remote employees should now be a foregone conclusion. From an investment perspective, employers should be reflecting on what they're saving by not having employees in the office. But there is an associated risk.
Enabling greater connectivity for employees also means bringing about more methods of getting in touch with them. Whether that's by email, messenger app, a call via their desk phone, softphone, mobile phone or a video call. There's a danger of creating an 'always on' culture – you're at home, why wouldn't you be contactable? And with everyone's days starting and ending at different times, how do you know they're not available?
Smart solutions can overcome this by automatically and simultaneously updating every work device or app to show an employee as available or unavailable, redressing the vital work/life balance.
Investing in the new normal
Despite the learnings of the last year or more, some employers will be pleased – if not relieved – to see their employees returning to the office, but for those who will continue to work from home, proper investment in ensuring the quality of service, as well as the quality of life, will be critical to its success.