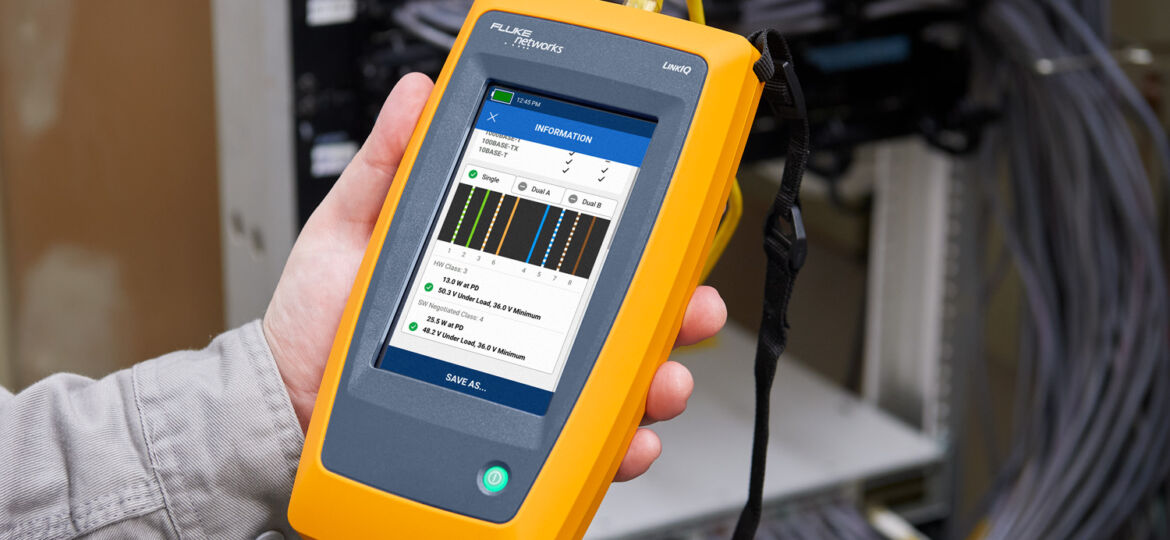 Fluke Networks has launched the LinkIQ Cable+Network tester which combines switch diagnostics with state-of-the-art cable measurement technology to enable installers, system integrators and network support professionals to easily troubleshoot network cabling and/or connect Power over Ethernet (PoE) devices to the network.
The product provides simple pass/fail test reports using the company's innovative LinkWare PC Cable Test Management Software. It can also verify the performance of switches, including those that provide PoE.
Walter Hock, Vice President Products, Fluke, said, "New technologies such as 10Gb/s ethernet and expanded PoE are at the core of today's networks. Whether it's an installer who needs to ensure the error-free operation and document their work or a troubleshooter supporting advanced devices, they both need a tool that combines support for today's advanced technologies with an ease of use that saves time and a price that means it can be widely deployed."
The LinkIQ is based on a single-test approach that automatically provides the appropriate measurements based on what is at the other end of the cable. For an open cable, it shows the length and pairing. If this is terminated with the supplied remote, the test result shows the maximum data rate the cable can support – up to 10Gb/s. However, if the cable is connected to a switch port, LinkIQ will show the name of the switch plus the port name, VLAN, speed and duplex. If PoE is advertised, it will display the power and class (up to 90W or Class 8) and then load the switch to verify the power can be delivered.
The LinkIQ uses LinkWare PC, Fluke Networks' reporting software which supports a variety of testers going back 20 years and is the industry's de-facto standard reporting solution with tens of thousands of active users. The simplest way to manage report data is with a free copy of LinkWare. The results from a wide variety of Fluke products can be stored and accessed, or PDF reports may be generated using the software.
Russell Queenan, Thorntons Communications, said, "The LinkIQ is professional, intuitive, easy to use and very quick to return results. The device has an easy-to-read screen and delivers a precise bullet point summary of key information. The real benefit of using the LinkIQ was the ability to challenge the capability of the old CAT5 cabling that we had not installed. This allowed me to advise the customer about which switch to upgrade based on those results.
"I knew it was good for 5G speeds, but anything above that, then the sockets, cabling and patch panels would need upgrading. The notetaking and reporting functionality of the LinkIQ is extremely valuable."
Martin Whitefoot, Project Manager, Splice Group said, "We used the LinkIQ for large installs to verify structured cabling from point to point, to test the correct ID terminates it, or to check the speed of the cabling. The LinkIQ tester is user-friendly and it performs the job of two devices that our staff would have used previously, which saves time and costs."