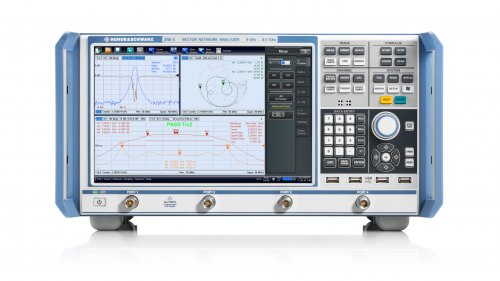 Raydiall, a FAKRA and HSD connector manufacturer for the automotive industry, together with their partner Yazaki, a global automotive parts supplier with focus on wire harness, connectors and other terminals, have developed a Single Pair Ethernet (SPE) connector for 1000BASE-T1 in accordance with the OPEN Alliance TC9 specification. Rohde & Schwarz assisted Raydiall to verify the development and test compliance of such connectors with the use of an R&S ZNB8 4-port vector network analyser.
Raydiall Automotive has been developing, together with its Japanese partner Yazaki, various automotive ethernet components for the link segment (communication channel) section. Such components are cable assemblies (cable harness and connectors), PCB headers, in-line connectors and the standalone communication channel (SCC). All of them had to undergo extensive testing against the OPEN Alliance (OA) Technical Committee (TC) 9 test specification for 1000BASE-T1 Shielded Twisted Pair (STP) to provide their OEM and Tier1 customers high-quality assurance.
In the OA TC9 are several measurements that need to be performed such as return loss (RL), insertion loss (IL), mode conversion (LCL & LCTL) as well as screening and coupling attenuation parameters which represent both emission and immunity of its products. The characteristic impedance measurements (CIDM) are done in the time domain thanks to the R&S ZNB-K2 time-domain analysis software option of the R&S ZNB8.
The vector network analyser from Rohde & Schwarz is the perfect T&M tool to perform tests according to the OA TC9 test specification since it can provide high measurement accuracy as well as support all the necessary frequency and time domain measurements needed. In addition, for in-line and header connectors, the R&S ZNB VNA has integrated the Ataitec ISD software option R&S ZN-K220 which is a unique feature to verify the performance of such components according to the OA TC9 test specification.
Adrien Brunet, Product Validation Manager and RF expert, Raydiall said, "We – Raydiall and our partner Yazaki – are very proud to develop and provide innovative solutions for the automotive Ethernet market. Rohde & Schwarz represents a key partner for test & measurement equipment and through their expert team in the field of high-frequency data transmission. The Rohde & Schwarz support enables us to reach our ambitions as a leading automotive connector company to improve our driving experience."
Dr Nik Dimitrakopoulos, Market Segment Manager Automotive, Rohde & Schwarz, stated: "In 2020 we saw the first OEMs using 1000BASE-T1 Automotive Ethernet in their production lines. Raydiall & Yazaki is one of the leading companies that produce high-quality cables and connectors for this technology. We are very proud to be part of their success and help Raydiall to verify their components using the R&S ZNB8 VNA. We are committed to provide leading-edge solutions in the automotive market and help to ensure a safer and connected world."