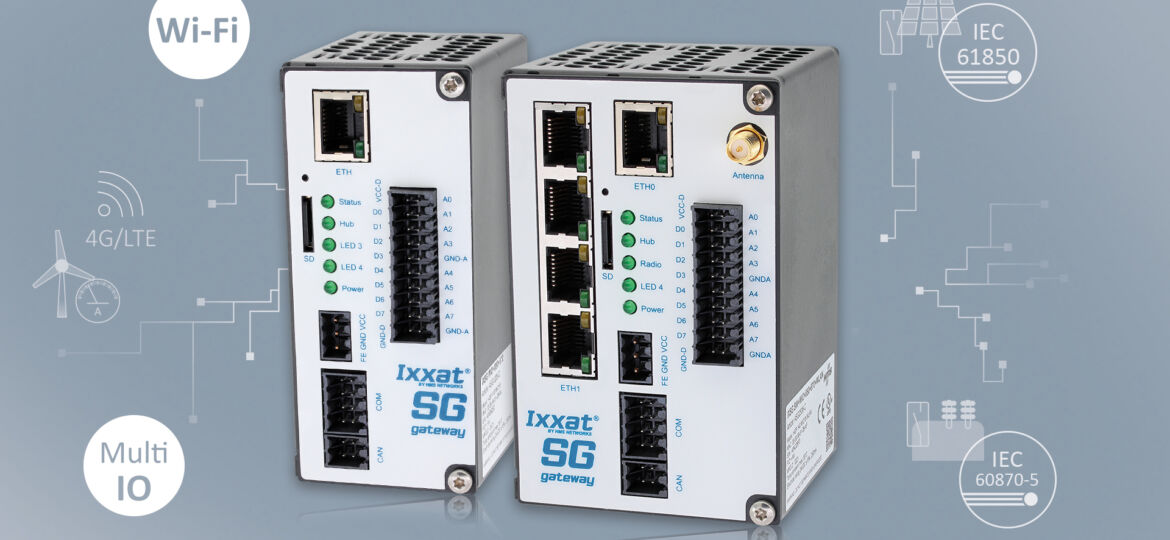 HMS Networks has expanded its Ixxat SG-gateway series for networking of energy components. Two new multi-IO versions allow traditional IO-sensors as well as sensors or devices in WiFi networks to be connected to energy systems using IEC 61850 and IEC 60870. Users benefit from direct and seamless access to sensor data from the control room as well as IIoT capabilities for monitoring, maintenance and forecasting purposes.
Digitalisation of energy technology is important for mastering the future challenges of sustainable energy supply. With Ixxat SG-gateways, device manufacturers, system integrators, energy suppliers and network operators get instant status information into the control room through direct access to plant data from various sources. This enables efficient system operation, fast reactions to network disturbances, as well as remote monitoring and maintenance of devices and systems. The compact Ixxat SG-gateways are especially suitable for retrofitting plants and digitalisation of substations and, are used in many areas of energy automation, eg in power plants and at large energy consumers.
Thanks to the wide range of interfaces and protocols supported, Ixxat SG-gateways remove the need for installing several separate gateways, such as fieldbus gateways, sensor gateways, IoT gateways and firewalls. Adding to the existing support for IEC 61850, IEC 60870, EtherNet/IP, PROFINET, MQTT and 4G, the two new SG-gateways feature Multi-IO and WiFi capabilities (WLAN according to IEEE 802.11 a/b/g/n). With this, traditional as well as wireless sensors can be easily connected to control rooms and cloud systems. Besides RS232/485 and Ethernet, eight digital inputs/outputs (24V DC) and eight analog inputs (0-20mA or 0-10V) are available for direct sensor connection, all switchable via software. Example applications are temperature monitoring of high-voltage lines via WiFi using Modbus TCP, pressure and density measurement of cooling liquids using Modbus RTU, and room temperature or humidity measurement in buildings using analogue or digital IO.
The acquired data from sensors, fieldbuses and energy protocols is made available by the SG-gateway in control room applications, SCADA and can also be integrated into the user's cloud system of choice. For direct use in a targeted system and protocol, the data can be pre-processed by the SG-gateway using the integrated WEBPLC. Data security is ensured via a local firewall, access management and via encrypted data transmission. Depending on the used protocol, this is done either with openVPN or TLS 1.3.