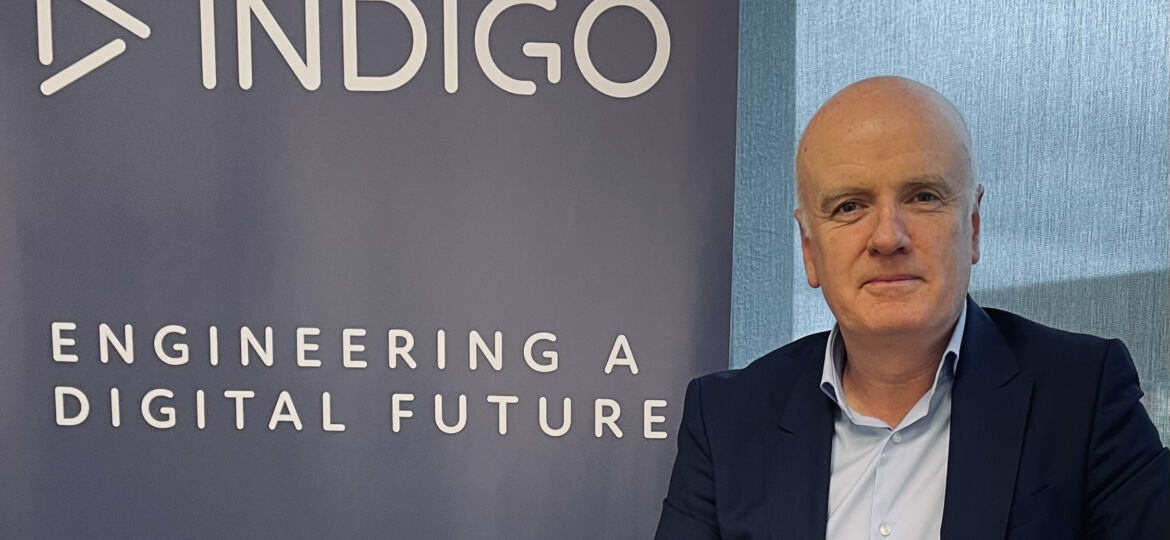 Indigo has announced record growth after a year that saw demand for services increase significantly. With the critical need for connectivity to support home workers and a greater reliance on digital communications, Indigo has grown revenues from £32m to £50m in the last financial year.
As the company enters a new phase of growth, Indigo has unveiled a refreshed brand, which includes changing the brand name of the company to Indigo from Indigo Telecom Group. This includes a full integration of Indigo's subsidiary, 4site, into the Indigo brand. This rebrand reflects the increased number of partnerships the company has forged with hyperscalers, enterprises and data centres.
The refreshed Indigo brand includes a new tagline "Engineering a Digital Future" in reference to Indigo's position as a global leader in digital infrastructure. The new brand reflects Indigo's focus on capitalising on global market opportunities around Data Centres, Fibre to the Home (FTTH), Wireless/5G, Digitisation and Telco Network Services.
ADVA recently signed up to Indigo's NOC and FLM services. Roy Friend, Service Business Manager, ADVA, said, "At ADVA, we work directly with our customers to develop network solutions that enable them to grow their business and seize new opportunities. One of the keys to our success here is working with partners that can help us exceed expectations. That's why we chose Indigo to help us deliver unbeatable support services. With its proven NOC and FLM Service and excellent track record in meeting SLAs, Indigo is a partner that we can trust."
Led by new CEO Ian Duggan, Indigo continues to expand internationally at a pace with services available in 90 countries. From May this year, Indigo has bolstered its presence in the APAC region by building its on-the-ground team and committing to revenue growth over the course of 2021 and beyond. To cater for increased demand for fibre, 5G and data centre engineering services, Indigo also scaled up operations in Germany and the USA. In May this year, Mike Maziarka joined the company as Sales Operations Manager for the USA to accelerate the growth the company is experiencing in the region and to focus on securing multinational customers across the USA.
Kevin Taylor MBE, Executive Chairman, Indigo, said, "The Indigo board is pleased to announce that the 4site brand will now be fully integrated into the Indigo brand. We are also taking the opportunity to refresh the Indigo Telecom Group brand to align with the next chapter of our growth. With a global footprint in over 90 countries and as a partner to most of the world's top brands, we pair dynamism and diligence, realising and maximising the value of connectivity from end to end, from present to future.
"This brand refresh more accurately reflects this vision to accelerate the limitless possibilities of global connectivity enhancing performance now and into the future."
Ian Duggan, CEO, Indigo, said: "The growth figures are hugely encouraging for our business and it is testament to the entire team who have worked incredibly hard despite the challenges we've all faced over the last year. For Indigo, this next phase will certainly be our most challenging – but one we're excited to enter. As a business, a huge reason why we're successful is the people we have. Having the best talent that is diverse and vibrant is also a key factor for us as we grow our footprint internationally. In addition, our commitment to the principles of ESG is at the forefront of everything we do."
Indigo's vision is to design, build and support the world's global digital infrastructure, delivering successful outcomes for customers and partners while building great careers for its people.
Today, Indigo has access to over 1,000 engineers globally supporting data centres, fibre, wireless and network services. In January, the company announced plans to hire 100 people to its Fibre Centre of Excellence in Limerick, Ireland. In 2020 alone, Indigo welcomed 140 people to the team.