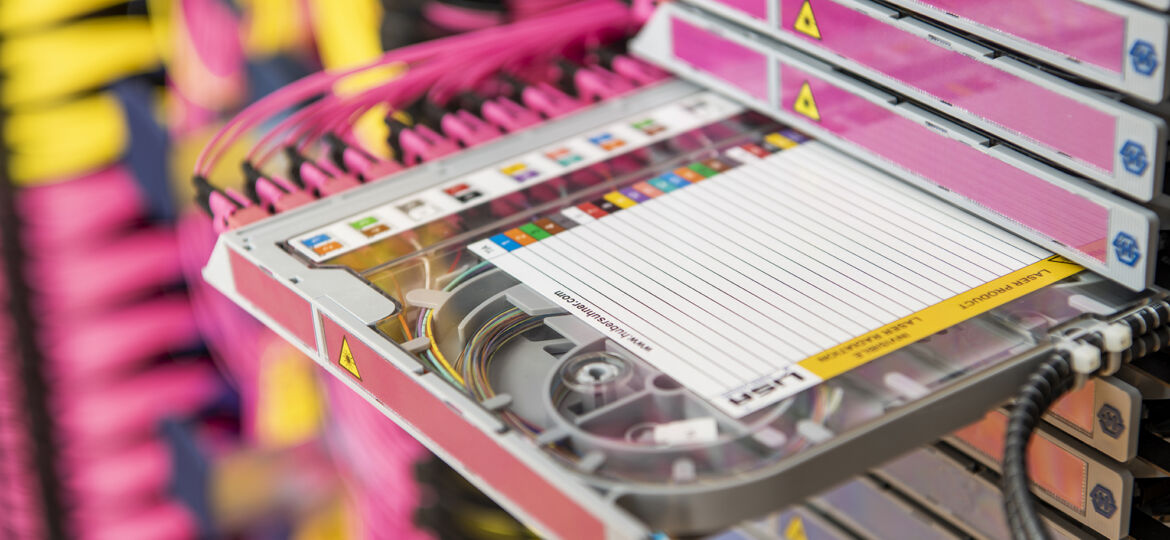 By Andreas Sila, VP Market Management, Data Center, HUBER+SUHNER
The promise of a fully deployed 5G network comes with high expectations, as it will play a critical role in enabling exciting applications and services for industries and consumers across the globe. Autonomous driving, real-time gaming, augmented reality, Industry 4.0 and the Internet of Things are just a few examples of applications that are driving the need for optimum performance and connectivity. To avoid the applications experiencing critical connectivity delays or interruptions, 5G must offer ultra-low latency and high bandwidth capacity to process data in real-time.
To match the performance expectations of 5G applications, the network needs both centralised large-scale data centres and small de-centralised edge data centres (EDCs), which are located much closer to end-user devices. Gartner expects more than 15 billion IoT devices will connect to the enterprise infrastructure by 2029. By avoiding lengthy data transmission routes between applications and 5G networks, the data can be processed at a faster rate using EDCs to provide connectivity that consistently offers low-latency and high bandwidth. While a couple of seconds delay during video streaming is not usually an issue, a delay is not acceptable for critical applications, such as stock exchange financial transactions.
The challenges of being on the edge
Being at the network's edge is a high-pressured job, as high performance is expected with very limited space to play with and in a standalone location. The definition of an EDC is an enclosure or space that contains facilities for networking, computing, storage and access. Higher capacity, lower latency and reduced network costs can all be enabled by moving computing and data storage closer to the end-user.
To enable fast, remote operations, an EDC that is built to perform to its maximum potential requires thoughtful planning and high-quality solutions. As small, containerised data centres that are deployed in a remote location, EDCs need to be designed in a way that is durable, easy to maintain and space-efficient. EDCs are unmanned, meaning centralisation management is crucial for their successful operation. With more internet traffic predicted to be created in 2022 than in the previous 32 years, EDCs must also be scalable to react to and process rising data traffic in the future. Not only that, but EDC operators must consider the challenges of security and employee availability as well as operation and maintenance needs in remote locations. While we are used to hearing the term EDC, it is not just a buzzword, but will play a significant role in addressing current and future connectivity demands.
Cutting-edge technology
Setting up an EDC to succeed begins with the physical cabling layer. Having a structured cabling strategy that capitalises on the limited space available allows to implement and install more active networking equipment. EDCs must combine structured cabling with cutting-edge optical technology, such as all-optical switching and bandwidth expansion, to thrive in an environment where data demands grow every day.
By using cables that are neatly organised and small in diameter, space is effectively maximised allowing for the possibility of additional active equipment. A high-density and space-efficient fibre management rack that can be customised to the pre-determined space is essential to provide a housing that offers both flexibility and scalability, with the option to add further fibre expansion when needed. When data traffic peaks, having opportunities for bandwidth expansion is a vital consideration to get more out of the existing deployed EDC infrastructure. This allows EDC operators to scale up when new 5G applications or other services come to market, without having to deploy more costly infrastructure. To reduce human error or damage, fibre optic cables also need to be easy to handle to reduce the knock-on effects of potential downtime. As the number of deployed EDCs rise as 5G networks are rolled out, there needs to be minimal manpower involved in managing the data centre on a day-to-day basis.
Leveraging remote control
To save significant time and costs, EDC infrastructure needs to be managed remotely by using automated operations and maintenance. All-optical switching enables remote access and control of the EDC to support the centralised management of data flow. This helps to protect the network, and also allows for remote maintenance to take place by identifying issues and any moves, adds and changes (MACs) that are needed. All-optical switching also enables Software-Defined Networking (SDN) which supports seamless integration within existing software, while passive multiplexing eliminates the need for extra signal conversion.
Optical switches need to be SDN-enabled to be integrated into the existing Data Centre Infrastructure Management (DCIM) and Automated Infrastructure Management (AIM) or other operation and control software.
Addressing unique needs
Needs and demands on the network vary from one location to another. Therefore, there is no 'one size fits all approach' to designing an EDC. In addition, the location of deployment is always different, meaning that the EDC space and environment requirements need to be considered on a case-by-case basis. Working with a partner that can customise an EDC to fulfil a specific network need, with both size and scalability in mind, is important to ensure that investments return value to the networks services and generate revenue.
With many design considerations to think about when deploying an EDC in a unique, remote location, it is important to consider the regional standards such as the Telecommunications Industry Standard (TIA) requirements for EDCs in the US. This includes appropriate ventilation and cooling, energy efficiency, site selection and security to only name a few. A fully developed structured cabling setup utilising a state-of-the-art fibre management system and high-density cabling can open up space and increase airflow. As an early contributor to TIA's white papers, HUBER+SUHNER have been defining many cabling design considerations for EDCs and the company's solutions have been created to meet these requirements.
Designed for growth
The expectations of 5G services are mounting, and EDCs are a substantial component for making this a reality. An EDC design that considers both the requirements of today, but also tomorrow, will succeed. Both efficiency and scalability are essential to building a high-performing EDC that can grow to match rising data traffic demands. A reliable set-up using easy-to-handle equipment makes a huge difference to be able to scale without causing any damage or downtime. When network operators get it right, they will be able to save network infrastructure costs in the long run, helping to transform 5G from an expensive investment into a profitable, valuable service to many end-users and industries who are at the cutting-edge of technical innovation.