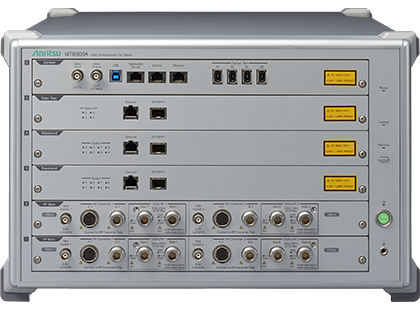 Anritsu has announced that it has verified a number of key 3GPP Release 16 features using its Radio Communication Test Station MT8000A in combination with Samsung Electronics' System LSI Business latest 5G Exynos Modem.
5G NR Release 16 expands the reach of 5G to realise new services, spectrum and deployments. It offers enhancements to the fundamental aspects of the 5G system that improve capacity, coverage, power efficiency, mobility, latency and reliability. These enhancements will enable benefits across a broad range of 5G use cases.
As part of a longstanding collaboration, Samsung and Anritsu have been focusing on integration and testing of multiple new Release 16 power-saving features that can extend battery life, such as a new wakeup signal (WUS), enhanced cross-slot scheduling, UE Assistance Information and optimised UE radio capability signalling (RACS). In addition, Release 16 mobility enhancements such as Conditional Handover (CHO), Overheating Assistance Information, MDT (Minimisation of Drive Test) and SON (Self Organising Network) are now being integrated.
These collaboration results build upon other recent successes in 5G NR Release 16 feature testing, most notably FR1 + FR2 Dual Connectivity, demonstrating Anritsu's commitment to the wider rollout of 5G services in support of an expanding ecosystem by delivering market-leading 5G test solutions for verifying compliance to the 3GPP mobile standard for 5G.
Jonghan Kim, Vice President of System LSI Protocol Development at Samsung Electronics, said, "Anritsu's powerful test platform has once again helped prove the technology-leading capabilities of the Samsung's 5G Exynos Modem. Our continued partnership with Anritsu will lead to early development and faster time to market (TTM) for our global 5G mobile device partners."
On achieving this joint test result, Shinya Ajiro, General Manager of Test & Measurement Company, Anritsu said, "By offering our leading test solutions, Anritsu is happy to have collaborated with Samsung in development of its market-leading 5G products. We look forward to continuing our future partnership with Samsung in clearing the path for advanced 5G to contribute to building a happy and rich global culture through new wireless technology."