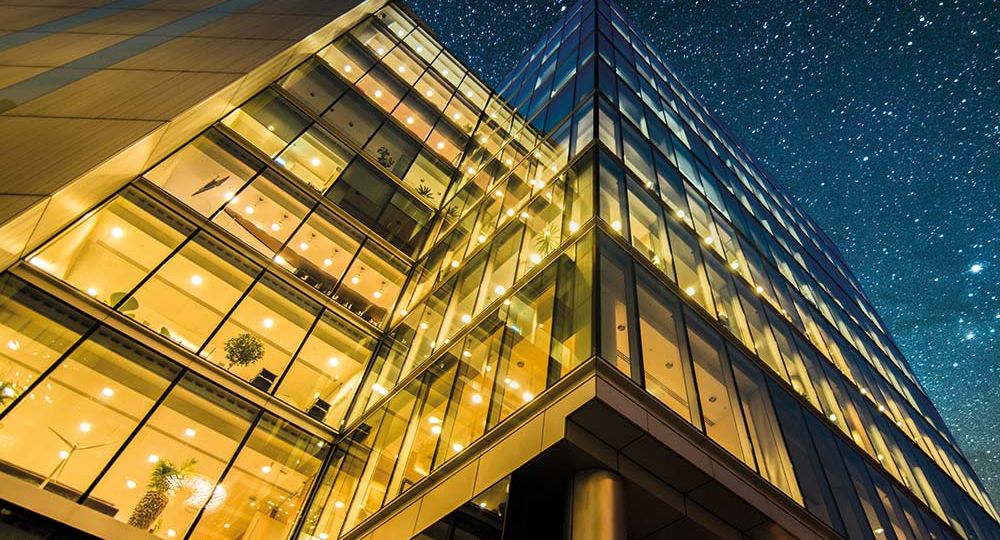 By Matthias Gerber, Market Manager Office Cabling at Reichle & De Massari https://www.rdm.com/
Over 25 years ago, cabling standardisation bodies introduced enterprise network topology based on 4-pair copper cabling and RJ45 jacks. Since then, Ethernet has supported a growing range of services that formerly relied on discrete technologies and proprietary protocols. This resulted in significant changes to cabling infrastructure as Ethernet kept up with enterprise application demands and huge numbers of devices being added to networks.
Today's Smart Building's ever-wider range of devices often feature IP addresses, sensors and actuators, but don't require high data rates. Reliably cabling numerous sensors, actuators and terminal equipment, often in harsh and cramped environments, is more important than bandwidth. Traditional copper data cables and RJ45 connectors are often suitable, but their size is an issue, considering the increasing number of devices and connections required in building networks and the fact that the transmission range of 100m is often a limiting factor in reaching far away devices.
As a result, standardisation bodies looked for ways of accommodating the increased demand for flexibility without increasing space requirements. ISO/IEC and TIA saw how new Ethernet standards operating over a single copper pair, developed for industrial and automotive applications, might enhance building networks.
Single Pair Ethernet (SPE), based on xBASE-T1 protocols uses a single twisted pair for data transmission. LAN is compressed into a thin two-core cable with miniaturised connectors. This makes it possible to significantly increase terminal equipment connection density. IT and field bus components are integrated, installation and maintenance are simplified, and the costs of material and operating expenses are reduced. SPE is a logical continuation of Ethernet developments. Whereas the original 10Base-T or 100Base-TX protocols still used two separate transmission channels for sending and receiving (2 pairs), 1000Base-T uses all four pairs in parallel and bi-directionally. This implies a single pair can transmit data in both directions.
Smart Building solution
The recent IEEE802.3cg application standard opened the door to the possible use of SPE in building automation, supporting the extended reach implementation of small sensors and the miniaturisation of networking equipment. SPE has the potential to become a key technology in Smart Buildings, connecting devices down to sensor/actuator level using a standard Internet protocol (IP) as a common platform for previously disparate connectivity. However, SPE is not necessarily a replacement for the existing RJ45 connector system in the Digital Ceiling. Rather, SPE will probably establish itself as a supplement to the existing Ethernet. SPE cabling can be deployed in an overlay network, instead of replacing legacy 4-pair LAN infrastructure.
In a given equipment size, SPE offers far more possible connection points than traditional Ethernet cabling. Connection to the LAN is done with switches either centrally in the floor distributor or distributed in the zone at the service outlets. Synergies reduce operating expenses and manufacturer-neutral standard products can be used.
SPE works with 10BASE-T1 to 1000BASE-T1, offers 15-1,000m link ranges at high transmission rates, and can supply terminal equipment with up to 50w with Power over DataLine (PoDL). It should be noted, however, that when using PoDL, the full transmission distance may no longer be achieved. Depending on the cable diameter, significant reductions in the distance are sometimes given for the higher remote power performance classes.
Replacing legacy fieldbus and enabling 'All over IP'
SPE may prove vital to helping integrate Internet of Things (IoT) into the LAN and connect in-building sensors, systems and devices formerly operating over BACnet or other proprietary fieldbus networks. Using SPE without interfaces to replace the traditional field bus can help realise the high connection density required for the networks of today and tomorrow, and makes installation faster, easier and more secure. Ethernet/IP transmits large quantities of (complex) data faster than field bus systems, allowing the collection and distribution of data from the entire network. SPE enables fast data transfer by avoiding Gateways for protocol conversions. The built-in authentication and security features of the IP protocol will help to protect Smart Buildings from cyber attacks. Its widespread adoption will help accelerate the development of smart building systems.
The connectivity landscape is becoming increasingly standardised and unified, with IP as a common medium for previously disparate systems. Today, an Ethernet infrastructure for connecting devices is considered a prerequisite for building automation in a commercial building. Being able to use uniform, manufacturer-independent connectivity and transmission protocols makes installation and maintenance easier, increases the number of connection points, and reduces material and operation costs.
A popular approach is introducing structured cabling in accordance with ISO/IEC 11801-6 (Digital Ceiling), as preferred by standardisation bodies. Pre-cabling with so-called service outlets in the ceiling is provided during initial building installation. These service outlets, spaced at regular intervals, provide connection points for all IP devices within a predefined zone and are connected to the nearest floor distributor via the structured ceiling cabling. SPE complements existing digital ceiling installations and can cover the last metres within a zone in a high-density ALL-IP environment.
Beyond the structured digital ceiling approach, SPE can be used for simple point-to-point connections in so-called 'on demand' cabling. For distances over 100m, SPE has significant advantages. Depending on the PoDL power supply required, SPE can connect devices over distances of several hundred metres to a floor or intermediate distributor. Thanks to long transmission distances and small cable diameters, connections with SPE installation cables can help significantly simplify cabling structures in this environment, reduce the degree of utilisation in cable traces and reduce possible fire load.
Making Smart decisions
Everything from access management, fire safety and lighting to HVAC, communications and security rely on some kind of Ethernet-based connectivity, and the related devices need to be powered. SPE can help introduce significant cost savings and easier installation in building automation and management. Smart, converged networks allow energy-conserving technologies and applications to be introduced, such as intelligent management of building space and resources. However, when specifying an SPE solution, it's important to make informed choices regarding connectors, and factor in distances. LC-Cu according to IEC 63171-1 appears to be the connector system of choice for structured cabling systems and building automation.
Implementing a new technology such as SPE is always a lengthy process. A complete working system must be available to ensure end customer acceptance. Providing everything required would be a huge task for one company and probably not feasible. However, cooperating to develop a system of fitting components is much easier. The Single Pair Ethernet (SPE) System Alliance is an open association of leading technology companies from various industries and application fields. Alliance partners are bundling and exchanging SPE know-how in a goal-oriented way to jointly promote Single Pair Ethernet for IoT and IIoT.​
The Single Pair Ethernet System Alliance
The Single Pair Ethernet (SPE) System Alliance is an open association of leading technology companies from various industries and application fields. Alliance partners are bundling and exchanging SPE know-how in a goal-oriented way to jointly promote Single Pair Ethernet for IoT and IIoT.​ The Alliance's mission is to provide a platform for:​
Jointly working on technology challenges related to implementing SPE in IIoT application​s

Stimulating exchanges between experts from different technology fields

Enabling participants to more rapidly build the Know-How needed for faster, more reliable implementation of SPE in their products​

Preparing for fast establishment of SPE Technology in the market through joint marketing activities, promoting the technology and participating companies.​
New companies are welcome and participation is encouraged! You can find a contact form on the Single Pair Ethernet System Alliance website. Based on the submitted application form alliance members will vote on accepting a new member.
LINK TO: https://singlepairethernet.com/en/