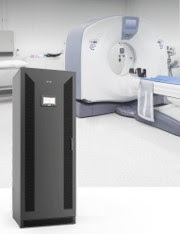 CENTIEL has launched a stand-alone UPS specifically to provide back-up power for medical imaging equipment in the healthcare sector. The solution, called PremiumTowerTM Medical Special, is designed with the capability to condition the power to devices such as MRI scanners which experience increased currents during the start-up phase.
Gerardo Lecuona, Co-founder and Director, CENTIEL, confirms, "Our standard PremiumTowerTM UPS has 120% continuous overload capacity and so it's already suitable for most medical environments. However, PremiumTowerTM Medical Special has been fitted with a much larger inverter within the same sized unit, meaning the new solution will occupy the same footprint but be able to cope with the high inrush currents during the ramp-up phase of specific items of medical imaging equipment.
"We have already installed the new solution in a high-profile medical facility in the Ukraine. Now PremiumTowerTM Medical Special is made available globally through our network of partners and subsidies for the benefit of hospitals and other medical facilities looking to protect critical power on behalf of their patients.
"PremiumTowerTM Medical Special is a three-phase, online double-conversion UPS, designed to maximise efficiency and comes in a range of sizes from: 80-250 kW in a single footprint.
The solution can be paralleled to provide either additional power capacity or redundancy and its best-in-class, on-line operating efficiency of 96.6% in double conversion mode minimises running costs and reduces the Total Cost of Ownership. It is built with the same high-quality Swiss design and components and offers the same industry-leading availability clients have come to expect from CENTIEL."