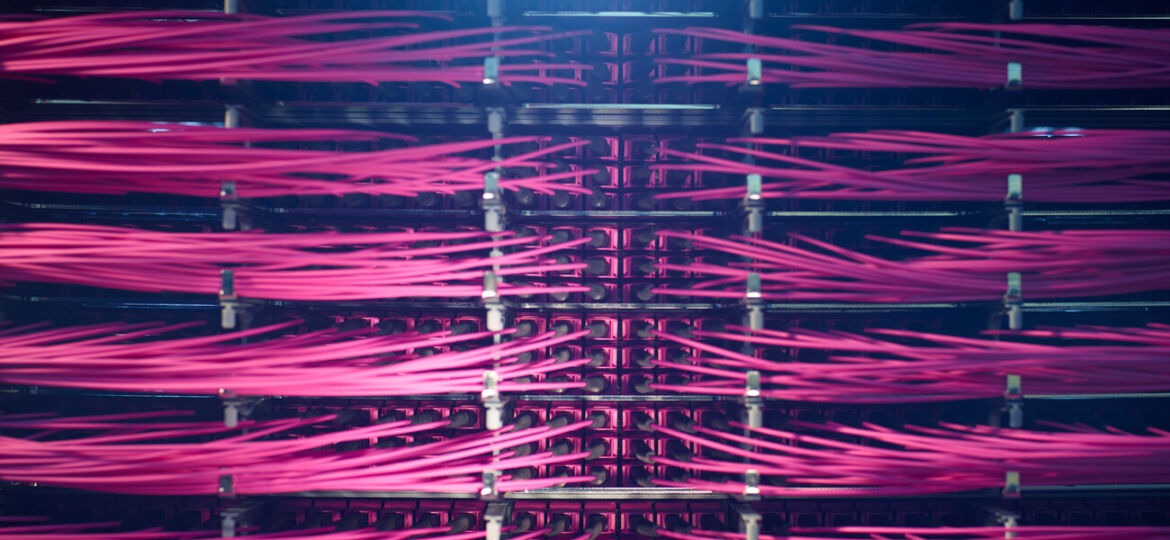 Michiel Panders, R&M General Manager Europe excl. DACH
Demand for bandwidth due to digitalisation and sustainability is increasing rapidly. This is the key driving force behind current investments in fibre and government policies aimed at accelerating fibre deployment. Uninterrupted, ultra-fast and error-free access to the Internet and Cloud applications, as well as outstanding Quality of Service, have become essential for both home and business users. Making informed decisions about solutions that bring fibre closer to workplaces and end-users and increase the bandwidth of WiFi access points is now more important than ever.
In addition, we are currently seeing a convergence of the management of different types of building infrastructure which previously existed in their own silos, such as air conditioning, lighting, LAN, access control and heating. New technical developments – supported by cabling – make it possible to merge systems, allowing them to work more efficiently than ever before, and introducing new functionalities. By bringing systems together on a common IP platform, the combined intelligence of previously stand-alone systems can be exploited more fully, and new functionalities can be introduced, saving cost and boosting productivity.
An emerging technology named "Single Pair Ethernet (SPE)" is crucial for enabling the transition of traditional technology to IP. SPE is much more suited to wiring these systems than traditional eight-wire CAT cabling. Less cabling needs to be installed in places where 'traditional' cables could be too thick. Less copper is used, reducing cost. SPE helps offices become more sustainable while adding more devices and sensors. With its single twisted pair technology, compact connector dimensions and high connector density, relatively large ranges (15m to 1000m depending on the transmission capacity) and Power over Data Line capabilities, SPE will certainly help promote 'All over IP' concepts.
Power Considerations
In addition to continuously increasing bandwidth requirements, anyone installing a LAN needs to think about active components and the possibility to power devices remotely via data cable using Power over Ethernet (PoE) or Power over Digital Line (PoDL). These technologies, facilitated by current network convergence trends, can help reduce power usage, if used correctly and make it easier to locate devices anywhere or change their positions.
Planners and end-users will need to consider the new Remote Power categories in the EN 50174 series of installation standards, which define the capability of an installation to support the different types of PoE. Individual channels that meet EN50173-1, using connectivity according to IEC 60512-99-2, will support the highest level of PoE (4PPoE with 90W). However, bundling channels can result in overheating problems.
For data centres, uptime, cost control, efficiency and 'Time to Capability' are essential performance metrics. Applications are also expected to be up and running in just a few weeks – rather than months. Making this possible requires long-term planning, insight into available infrastructure, and the ability to pinpoint each connection at any time (also for compliance and security purposes). Infrastructure modernisation, managing increasing connection density and guaranteeing 'Time to Capability' requires systems that show exactly how the entire infrastructure is connected and managed at any given time. Planning five years ahead is sensible – albeit difficult – when it comes to available space, bandwidth, CPU, network capacity and servers capacity – which will increase from 25 to 100 to 400Gb.
To support the rapid deployment of current and future technologies, it is important to create sufficient capacity without over-specifying or overspending. Infrastructure managers require insight into the speed at which new services or functionalities can be made available. In addition, there also needs to be an overview of the physical infrastructure. DCIM and inventory management are essential here.
Optimising 'Move Add & Changes' (MACs), processes and registrations through automation, will improve availability, uptime and Time to Capability for organisations and expand in a modular way. Automated workflow can help staff navigate processes and simplify MACs – particularly in Edge Data Centres, which are often built in locations where trained support staff aren't readily available. Automation offers a solution for smaller Data Centres, where a single person might be responsible for IT, infrastructure management and facilities management.
Telco/FTTX markets across regions use widely differing technical and logistical methods for creating fibre optic connections. What's more, local variations in legislation, permits, (outdated) technologies, requirements and solutions result in complexity for providers and network operators. Technological solutions need to be carefully attuned and adapted to the local situation and customer needs.
Significant investments are currently being made in the area of 5G rollout, which is key to large-scale digitalisation. Mobile operators rolling out 5G are facing new complexity, as 5G isn't just 'next-generation' 4G, but a new type of technology. Performance associated with 5G, such as low latency, high capacity and reliability depends on having sufficient fibre. The inherent limitations of wireless solutions mean fibre and high-density architectures are essential to connecting billions of sensors and enabling extremely high, uninterrupted, low-latency symmetrical bandwidth.
To make 5G possible, fibre optic networks need to be extended to reach antenna masts and a far greater number of access points will be required. Cabling and equipment will need to fit into increasingly small spaces, while at the same time the number of fibre-optic connections will have to be significantly higher. The larger fibre counts also introduce increased quality requirements.
Smart Cities will play an important role in reducing energy consumption, while also enhancing comfort and safety. However, each Smart City is unique in terms of size, functions, street furniture, requirements of residents and businesses, and more, so extensive customisation is required. Systems become 'smart' through connectivity, supported by fibre optics or 5G (which, in turn, is built on fibre). A fibre backbone is also crucial for the electrification of traffic and optimisation of electricity grids.
As companies invest in more and more (network) equipment and cabling, they need to keep a close eye on their sustainability performance. Fortunately, glass fibre is made of silicate, which is available in virtually unlimited quantities. Raw materials can be extracted or recycled at a reasonable cost and less material is needed.
The main German broadband association recently announced that copper networks consume up to 17 times more electricity than fibre optic networks. The German Umweltbundesamt has demonstrated that CO2 emissions per hour of video streaming for FTTH are only half of those of the fastest copper network. A study by the FTTH Council Europe concluded that there are significant environmental benefits to be gained from dismantling copper networks and switching to fibre-fibre networks that emit 88% less greenhouse gases per gigabit than legacy technologies.
Critical success factors
Providers must be able to take the current and future needs of customers into account and ensure networks can continue to grow in a modular way. This is strongly linked to a deep understanding of local needs, customer relationships, specifications and regulations, and product characteristics. Network equipment companies must be able to support and advise customers on standardisation, automation and optimisation. In this way, end-customers can realise their business cases without worrying about technology, implementation, and future-proofing.
Tackling all of these new trends and arriving at the best possible solution for your specific application can be challenging. For manufacturers and developers, it is vital to share expertise and engage in a dialogue with different target audiences. After all, there's no single 'one size fits all' solution…