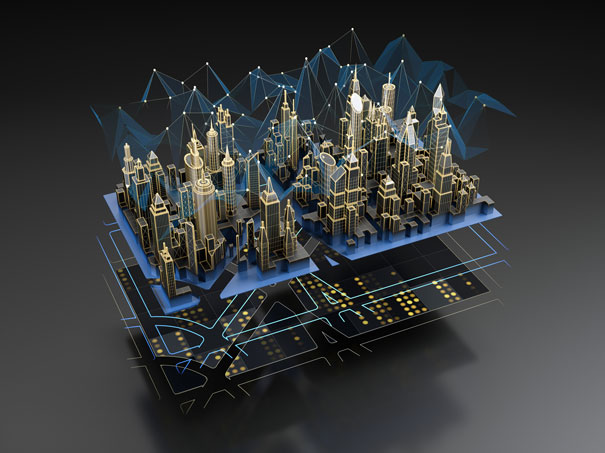 By John Morrison, SVP of International Markets, Extreme Networks
2021 was the year that the online and offline became one. To function in this tumultuous year – one marked by remote work and a growing reliance on technology – enterprises, industries and the economy had to innovate. Much in the same way the space race forced competing nations to become pioneers, the new reality with which we are faced forces us to reflect on our IT infrastructure and the networks that underpin it.
Traditionally speaking, enterprises have always viewed their networks through a binary lens: hardware and software. In 2022, organisations will begin to discover the value of viewing their networks holistically and as multi-layered. The increasing shift to online means that networks will need to be more capable than ever before and tomorrow's networks are only as strong as their layers.
Turning more attention to network layers is crucial if firms are to future-proof themselves and become what we call 'infinite enterprises' – enterprises which are capable of scaling, meeting users wherever they are and delivering a consumer-centric experience where technology revolves around specific, granular needs. Creating networks that can meet these goals reliably and securely will keep people connected, engaged and productive in the more distributed environment that is coming to shape our reality.
To make the most of their networks, enterprises will need to embark on a journey of discovery. The tools – layers – are there. Now it's up to industries to find, evaluate and implement them. The following are the three layers which will bring businesses closest to becoming infinite enterprises in 2022.
Recognising the power of WiFi 6
Firstly, businesses should consider the implementation of WiFi 6. After all, it can deliver up to 30x higher speeds over its predecessor and will further improve the already growing spheres of AR/VR, online gaming and video streaming. Aside from increased speeds, WiFi 6 enables bandwidth to be segmented within channels allowing it to communicate with multiple devices simultaneously using the right frequency per device – helping to reduce network strain and safeguard performance.
In numbers, WiFi 6, thanks to its bigger data transfers, offers speeds of up to 11Gbps compared to current WiFi capabilities which peak at 1Gbps. These high speeds make working with or on any SaaS a breeze, coupled with smoother, lag-free conference calls and rapid large file transfers. WiFi 6 also avoids suffering from the same frequency overpopulation issues that we may experience in other wireless standards. Since it has improved Multiple-in, Multiple-out (MIMO) technology, it even allows more devices to stay connected, without throttling devices capable of processing more data when connected. Furthermore, since WiFi 6 is designed to be part of a secure corporate LAN, staff wouldn't need to tunnel their connection through a VPN to access applications, files and data stored in the corporate intranet.

Taking advantage of software-defined networking
The second layer organisations can explore is software-defined networking, or SDN, which has gained momentum as a popular approach to achieving a flexible and agile network. SDN has become crucial due to the growth in cloud computing, the increase in mobile usage and the continued desire to reduce business running costs.
SDN enables the user to design, build and manage networks, separating the control and forwarding planes, removing the underlying infrastructure for applications and network services and making the control plane directly programmable. Through SDN, IT teams can manage the entire network and its devices consistently, regardless of the complexity of the underlying network technology. Via a properly configured SDN environment, it is easier and more cost-efficient to distribute computing power to remote sites, moving data centre functions to the edge, adopting cloud computing, and supporting the Internet of Things (IoT) environments.
SDN even makes possible more granular security and control, and lowers operating costs at the same time as hardware and software are integrated from the ground up. IT teams can also gain more holistic enterprise management as well as centralised network provisioning as SDN brings together all aspects of modern networks under one roof. Finally, SDN can help users save on hardware and capital expenditures, it enables cloud abstraction and ensures guaranteed content delivery.
Utilising autonomous, AI-driven networks
The third opportunity for firms to survive and thrive in the year ahead is in identifying and taking advantage of the power of automation and artificial intelligence (AI). This is vital as the demand for rapidly deployed networks will begin to outpace the speed at which IT teams can deliver them. By harnessing the capabilities of automation and AI technology, processes can be streamlined, meaning that IT staff can focus on more strategic projects and tasks.
Autonomous networks will ultimately transcend basic automation and become entirely self-operating. With machine learning capabilities, a network will learn on its own and identify/exploit gaps and hidden patterns. For instance, an autonomous network could help get a heart transplant where it needs to be in time for surgery, power next-level robotics, and find missing persons with IP cameras on roads and motorways.
This is a boon for businesses as it will reduce manual deployment and intervention in the likes of planning, provisioning, service delivery and network operations. Ultimately, autonomous networks can complete tasks for a fraction of the cost, in a fraction of the time and with a fraction of the same errors.
Looking ahead
Our world is one that will be underpinned by our ability to work with technology to create the solutions we need. Much of this is dependent on our networks, which are in turn dependent on the intricate and immensely powerful layers that will come to support them. These layers have been with us for a while. Now, the time has come when enterprises will begin to discover the myriad benefits they yield.
In a framework like this, we will begin to see the 'infinite enterprise' become a benchmark for future-readiness. Advanced layers will become the foundation of the powerful networks we need in 2022. 2022 will thus become the year of discovering network layers.