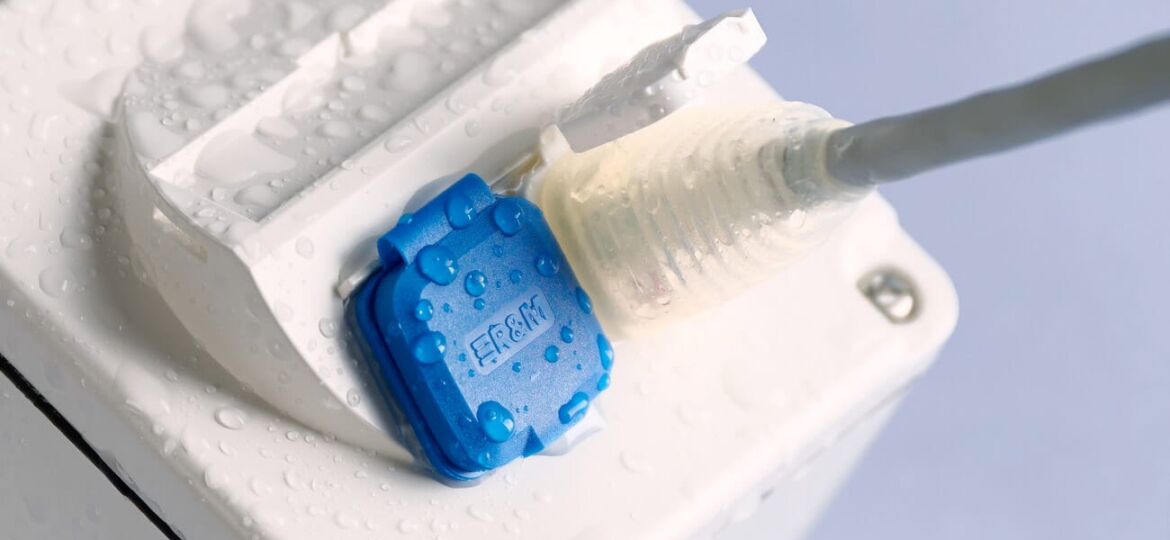 R&M has launched a new generation of outlets for ultra-fast data transmission in harsh environments. The splash outlets with two RJ45 ports can withstand moisture, dust and temperatures ranging from -25° to +80° Celsius. They are resistant to gasoline, oil, alkaline solutions and saltwater, are permanently UV-resistant and meet the requirements of protection class IP54.
The innovative products build on the reliability of their predecessor products. The new design features fewer single parts, thus simplifying both the installation of the connection modules and the mounting of the outlet.
Physical network connections in industrial production plants are among the first areas of application for R&M splash outlets. WLAN outdoor aerials and surveillance cameras are easy to connect to LANs and the Internet with the new outlets. They also establish and provide secure access to the local data network in the case of less than perfect environmental conditions in gastronomy, food production and agricultural businesses. Further fields of application for outdoor outlets are access control, air conditioning and solar technology, sports facilities, stages, self-service terminals, logistics, research and laboratories.
The outlets in the standard format 87x87mm are available for flush-mounted and surface-mounted installations. A sealing ring under the front panel provides total protection against splashing water,
steam, mist, condensate and dust. Non-slip caps are permanently connected to the housing and close the free ports. During installation, the RJ45 connection modules are automatically fixed in the surrounding guide. This prevents them from tilting, and the outlet is also sealed at the plug face. There are similarly protected patch cords for every outlet.