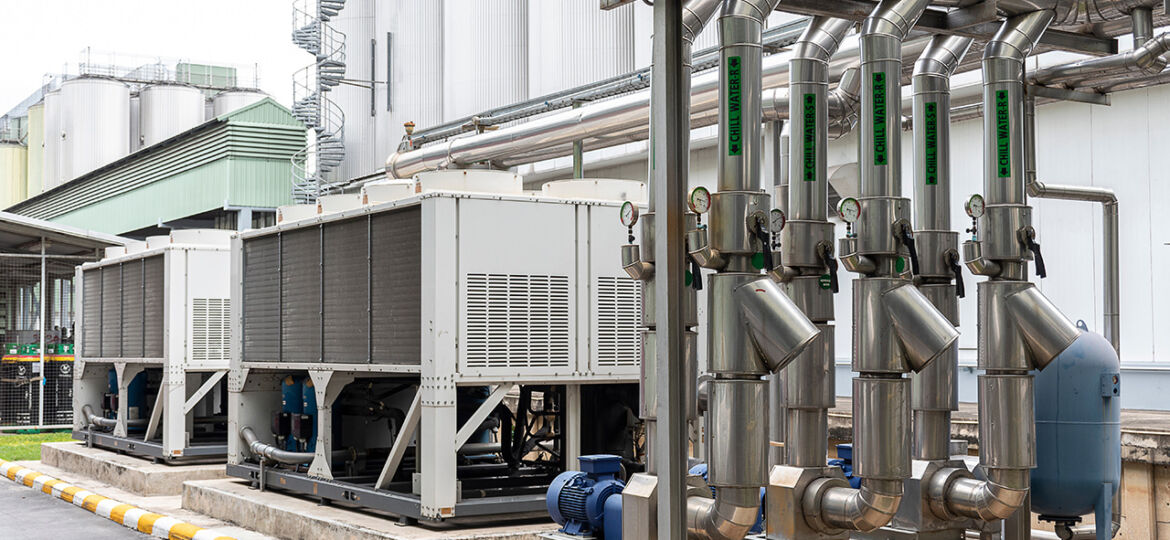 By Andrea Moscheni, Thermal Management Product Application Manager at Vertiv 
https://www.vertiv.com/en-emea/
Data centres are becoming increasingly important to all aspects of modern life. Driven by a rise in penetration of high-end cloud computing in enterprises, the rapid digitalisation of all industries, the new normal of remote work, the growing use of Over-The-Top services and more, it's predicted that the data centre services market will continue to grow. And, as well as market growth, the role of the data centre will significantly expand too – with providers recognising the wealth of opportunities in a market that is predicted to grow to $172.36 billion by 2030, at 14.4% of CAGR between 2020 and 2030.
Like many businesses, data centres are looking for new solutions that can meet their ambitious energy efficiency and carbon neutrality targets. So, how do those responsible for data centres prepare for growth while meeting their green commitments? Much of the answer lies in chilled-water cooling systems, which provide a viable way for data centre providers and managers to not only support their growth cost-effectively and with minimal disruption, but also reduce their carbon footprint and help meet sustainability objectives in both the reduction of direct and indirect emissions. 
When it comes to reducing the global warming potential (GWP) of data centre operations, traditional refrigerants are already being replaced by HFO (hydrofluoro-olefin) refrigerants. However, most of these new refrigerants are classified by ASHRAE (American Society of Heating, Refrigerating and Air-Conditioning Engineers) as mildly flammable therefore requiring a new design for the cooling system, potentially impacting the broader data centre design.   
Chilled water systems offer an excellent solution to this issue as the refrigerant is contained within chiller units and, in most applications, these are installed outside of the data centre, thus simplifying the use of flammable fluids. Chilled water systems are one of the first cooling technologies to apply low GWP refrigerants in data centre applications and therefore are an example of a valid alternative for reducing direct environmental impacts. Chilled water solutions also play a vital role in the reduction of indirect emissions (cutting energy consumption).  In recent years, they have applied a range of cooling system efficiency improvements that allow a reduction in electricity usage. 
Chillers equipped with inverter-driven screw compressors, or oil-free centrifugal compressors, are now available, to drastically cut down electricity consumption compared to the previous technology available. 
AN EVOLVING SOLUTION
The good news is that developments in this arena are happening all the time – delivering more efficiencies and greater benefits to providers. For example, over the past few years, ASHRAE has increased the recommended operating temperature of data centre equipment up to 27OC – allowing subsequent increases to the water temperatures within chilled water systems and enabling an extended use of free cooling chillers, even in countries or climates where free cooling was not previously feasible. Free cooling technology has an important advantage as it does not require the activation of the compressor.  
Adiabatic technology can also improve the efficiency of a chilled-water system. In these solutions, the ambient air is cooled down by passing through wet pads. The air is then delivered at a lower temperature, achieving a higher free cooling capacity of the chiller and a more efficient operation of the compressor. The core of this solution is the onboard controller of the unit: it enables the use of water whenever strictly needed, according, either to redundancy, efficiency or cooling demand needs. The controller has the main responsibility of preventing water from being wasted and improving the WUE (water usage effectiveness) of the data centre. The application of water is always a matter of balancing different aspects and constraints. 
And even more improvements to data centre efficiency can be made through the optimisation of chilled-water systems controls. Chilled plant manager technology can coordinate the operation of all the units and main components of the chilled-water solution. It allows integration and coordination of the working mode between units and the main components, enabling improved efficiencies and performance at partial loads or, in the unlikely event of failure, finding the best way to react and grant cooling continuity to the system.
THE ABILITY TO ACHIEVE NEW TARGETS
A great example of this in practice is at Green Mountain, a ground-breaking Norwegian hydro-powered data centre where the thermal management system plays a big role. Based in a former NATO facility carved deep in a mountain, Green Mountain has signed up to the Climate Neutral Data Centre Pact, which requires providers to be completely climate neutral by 2030.
To achieve this goal, the DC1-Stavanger data centre now runs on 100% renewable hydropower and, importantly, is cooled with water from the fjord, which provides a continuous temperature of 8°C (46°F) all year round. Green Mountain gained five megawatts of additional cooling capacity after the installation of Vertiv's chilled water units, demonstrating how these systems, as part of a broader strategy, can facilitate carbon-neutral data centre configurations. 
And Green Mountain isn't alone. Many hyperscale and colocation providers are now embracing the opportunity chilled-water systems present, not only from a cost and speed of deployment perspective but with sustainability front and centre. This needs to continue as we move into the next phase of the race for expanding capacity and improving the data centre's carbon footprint. With such rapid expansion and increasing pressure to achieve net-zero, data centre providers must rely on new technologies to meet the requirements of both today and tomorrow.