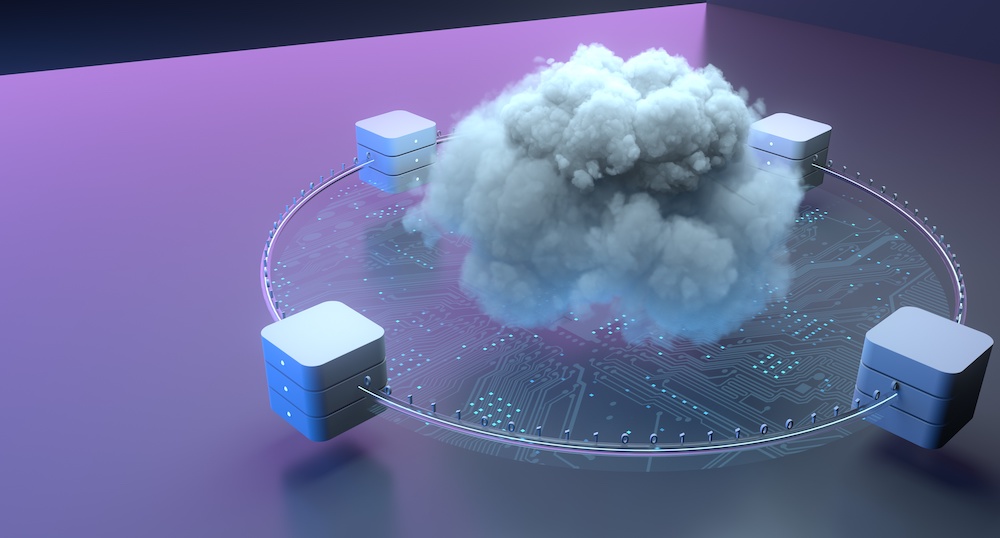 by Mahomed Hussein, Technical Operations Director, Custodian Data Centres
All businesses have seen seismic shifts in how they organise their workforces and processes, and mainly, how they manage the massive amounts of data they have flowing into their company on a daily basis.
The IT infrastructure that can support remote working with secure access to data has meant enterprises have had to adopt a hybrid approach that mixes on-prem data centre services, with cloud solutions. Indeed, according to a recent report from Mordor Intelligence, the hybrid cloud market will see a growth of over 20% by 2027.
The IT environments that businesses are building today must be flexible and able to change and react as markets evolve and customer demand advances. A hybrid data centre strategy is a vital component of digital transformation, which has continued at pace.
For enterprises, driving innovation and creating a digital ecosystem ready to support technologies such as edge computing, automation, and the rapidly expanding use of AI across many commercial channels, is critical. As a result, a hybrid approach to data and network management becomes essential. Here, colocation service providers must deliver the levels of integration, interoperability and agility that their clients demand.
A compendium of needs
Any disruption in service delivery must be minimised. Data management and network performance that delivers maximum uptime are critical for all channels. Adopting a hybrid approach has proven to enable organisations to integrate their systems, reduce complexity and take full advantage of what a hybrid IT infrastructure can bring.
Data centres that provide fast spin-up of additional capacity become destination service providers simply because they can react quickly to changing market conditions and business needs. Scaling at speed has become a core competence for businesses and data centre service providers.
No discussion of hybrid data environments would be complete without considering security. There are increased risks with hybrid environments as the span of IT networks increases, making it more susceptible to attacks and often harder to ascertain precisely the vulnerabilities, especially when looking at structures across multiple geographies. Therefore, any hybrid strategy must be grounded in high levels of accountability and structure to ensure the setup delivers on what is required.
The operational environment that enterprises now find themselves within, has forced rapid change. In the last ISG Provider Lens, Fujitsu concluded that hybrid IT has become the result of these massive shifts: "Large enterprises are increasingly adopting hybrid IT services: The adoption of hybrid IT is high among large enterprises in the UK, as they have the niche talent to implement specific solutions in the hybrid IT segment. ISG observed that small and medium-size companies are also moving towards this direction."
As businesses increasingly take a granular approach to customer connectivity across multiple channels, hybrid data centre services are vital to support these initiatives. Digital diversification is now a watchword for all enterprises.
Partnering with data centre service providers immersed in the changing data and IT environments driving today's commerce can deliver critical advantages, including lower cost, greater efficiency, state-of-the-art cybersecurity and critically world-class customer services.
Infrastructure for the future
Moving an enterprise's IT infrastructure to colocation supports hybrid data and network management. It delivers reliability, resilience, access to network resources and the high levels of data security businesses require to meet customer demand and drive innovation.
JLL states, "Companies continue to maintain enterprise solutions, but hybrid and multi-cloud systems are becoming more mainstream. According to a recent Cisco survey of 2,500 IT decision makers, 82% have already deployed a hybrid cloud strategy to their business. Hybrid cloud systems ensure organisations have full control and the highest security over their core data."
For several years the mantra of 'cloud first' has reigned supreme. However, as no two businesses are the same, bespoke personalised IT infrastructures now dominate network capabilities. Here, the hybrid approach allows companies to tailor their data and network needs to their precise requirements, with the aid of colocation hybrid service providers, achieving agile and thriving business results.
Fundamentally for data centres, the hybrid environment benefits customers that require agility and the capacity to scale at speed. The working world is evolving. Data centre service providers must ensure their technical expertise and infrastructure is geared to support these new environments while maintaining the security and resilience they have spent years perfecting.
Gartner concluded: "As enterprise infrastructure moves toward cloud distributed application delivery, the data centre itself is being transformed. As a result, I&O leaders must transition to a hybrid model mindset where the presence of an on-premises data centre is no longer the primary driver for infrastructure decisions."
Longevity and business agility need a firm data and IT infrastructure management foundation. Only a hybrid approach integrates all enterprises' data strands into an insightful and actionable ecosystem with the hybrid colocation data centre at its hub.