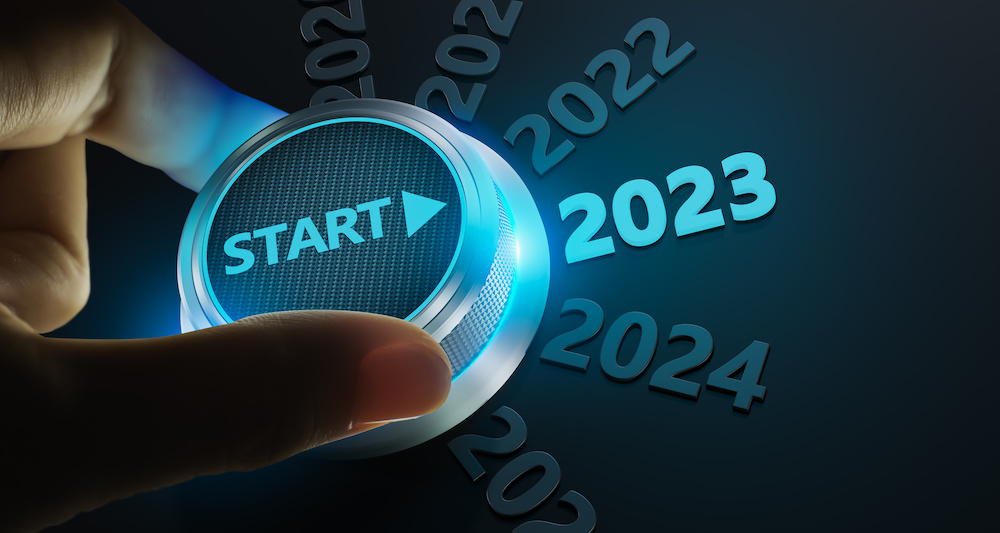 From AI and robotics to sustainability, the evolution of 5G to network security, we head into 2023 with a look at what the future might hold for the networks and data centre industry.
Laura Vallis, Editor, Networks Europe asks some of our magazine's friends to help us with those predictions.
How will the approach to networking evolve in 2023?
Mattias Fridström, VP, Arelion is concerned about the ever-increasing cost of living. He said, "The cost of networking is going up in every respect, and energy is just one component of this. In 2023, carriers and operators will be looking closely at how they can address the expense of running networks and find better ways to run them. Looking at where legacy assets can be replaced and decommissioned will be an important part of this process. Enterprises will be doing exactly the same, and we can certainly expect more IT infrastructure to be placed in the cloud as part of these cost-cutting measures."
Mark Pestridge, Senior Customer Experience Director at Telehouse considers AI and machine learning technologies: "The benefits of automation have become clear over recent years, making sensationalist headlines about robots "stealing" people's jobs ring increasingly hollow. As a result, growing numbers of businesses will leverage AI and robotics in 2023 and beyond, recognising its potential to free up human employees for more rewarding tasks, augment their skills, and unlock the power of intelligent decision-making by ensuring a continuous flow of accurate, high-quality data."
Bandwidth remains an issue. Chris Dyke, Sales Director UK & Ireland, Allied Telesis: "As mobile users expect more immersive experiences on their devices, the demand for bandwidth will continue to grow. Current IT devices are evolving to provide more throughput, both on a wired network, moving from 1G to 2.5/5 or 10G, and on a wireless network with the full adoption of WiFi 6 technology. These two evolutions need to proceed in parallel, WiFi 6 requires high-speed wired devices with 2.5G or 5G to provide the full potential, and the wired switches need to connect to WiFi 6 Access Points to use all the available bandwidth. Companies will need to take a step-by-step network upgrade, starting from the wired device, to build an infrastructure ready to deploy the new WiFi 6 Access Point and then, once ready, migrate the WiFi from the current implementation to WiFi 6."
What are the most urgent needs of the industry?
Aware of the expanding digital skills gap, Matt Pullen, EVP, Managing Director, Europe at CyrusOne, is concerned that the issue is hampering its long-term development and growth: "While notable progress has been made in recent years, the sector continues to grow on a steeper curve than the advancements made to-date." He continues, "It's imperative that the data centre industry comes together in a meaningful way to address this gap, identifying additional ways to communicate the value and opportunity that this sector provides and educating on its broader societal impact. We will see more urgency placed around this issue in the coming year as the industry struggles to compete and maintain demand, with many companies widening their net to include recruits in unrelated disciplines who can be trained."
Both Fridström, Arelion, and Dyke, Allied Telesis, are aware of security concerns. Fridström says, "Physical security of networks is definitely an area of evolving global interest, be it the fibres in the ground or in remote locations. Whether it is damage caused by a natural disaster or sabotage of one kind or another, there is a clear need for operators to re-assess how network assets are protected. It is something that is on the mind of enterprises too in the buying process: gone are the days of just being concerned about alternative route options, customers want to know what DC power generation there is at primary route network nodes, and how those nodes are protected from attack. It is something that operators are acutely aware of, and will be even more of a focus across their estates going forward."
Dyke, continues, "The exponential growth in the number of attacks on IT services will become a large part of the initiative in preventing and protecting company assets. This will result in a redesign of IT services to become more resilient under different aspects. Network security, disaster recovery, power supply redundancy and network resiliency are the main aspects that companies need to consider. Businesses are also increasingly realising that maintaining their own networks and protecting them is too difficult a job, so we anticipate continued growth in out-sourcing to managed service providers offering remote monitoring, management and cybersecurity services.
Steven Carlini, VP of Innovation and Data Centre, Schneider Electric considers the need for higher capacity networks: "High-definition video remains the technology driving the need for higher capacity networks – primarily for integrated video analytics and maintenance. High-capacity networks are required by video to help maintain operational readiness and efficiencies. At Schneider Electric, we're seeing more applications switch from IoT sensors to high-definition video. For example, instead of a farmer placing upwards of one thousand IoT soil sensors on its land, they could utilise a small number of cameras, or a drone with high-definition capabilities to take images of the plants and soil, and generate the data to determine if more moisture or fertiliser is needed.
"Boston Dynamics and IBM are already using edge technology together with private 5G networks in industrial scenarios via a maintenance robot named Spot. With over 1,000 robots in operation, onboard processing and AI analytics are employed to securely perform key tasks, ranging from maintenance to information gathering in remote areas – often those deemed too dangerous for humans. While Spot requires significant amounts of local processing, it also needs access to a communications network to raise any urgent issues it uncovers."
But what of cost, energy costs and financial viability? Pestridge, Telehouse, says, "With the price of energy reaching unprecedented highs, many organisations will see their IT spend continue to rise next year. However, while budgets might be able to absorb these extra costs in the short term, it is not a sustainable financial option for most businesses. Decision-makers will therefore start to look towards other means of ensuring a reliable, secure energy supply, and energy reduction schemes to minimise the impacts on operational costs, to ensure current and future productivity.
Sustainability
Pullen says that we need increased transparency in sustainability reporting: "Sustainability will undoubtedly remain a key focus for the industry, with legislation and standardisation of auditable reporting driving more transparency in the market in the coming year. We are already seeing developments of this, with signatories of the Climate Neutral Data Centre Pact launching an Audit Framework to assess and verify the compliance of data centre operators with the Pact's Self-Regulatory Initiative (SRI), and make data centres climate neutral by 2030.
"Consequently, 24/7 carbon-matching will become a requirement with companies having to track their power usage on an hourly basis and match their usage to a carbon-free energy source. This will also result in a move away from carbon offsetting and toward PPAs, directly with green energy generators."
Pestridge, Telehouse: "As the clock ticks relentlessly towards the net-zero targets of 2030 and 2050, many businesses are realising the limitations of their current approaches to sustainable IT. Worryingly, a recent Telehouse survey of IT decision-makers in the UK found that over a third (34%) of organisations have not yet made any progress on their sustainability goals or have not even defined them. This is likely to change in 2023, with the mounting customer and regulatory demands making it essential for businesses to take responsibility for all their IT operations – from manufacturing processes to the Scope 3 supply chain emissions that are outside of a company's immediate control."
Fridström, Arelion."Sustainability might be nothing new to the boardroom of enterprises, but more of a focus is now being placed on network operators, and we believe this will grow. Enterprise customers have been making great progress in how they demonstrate sustainability and energy saving within their own businesses, particularly if they are heavy data centre users or operate in a manufacturing supply chain. But now the focus is shifting to other suppliers and, as a network backbone operator, we are seeing greater interest from enterprises in how we address sustainability. Several areas will be of particular interest including how electronic waste is managed, efforts to lower energy consumption, and the type of energy that is sourced. Going forward, this is going to be an area that can win or lose clients for network operators."
Which vertical markets will have to face the most significant changes and why?
Manufacturing is seeing significant changes due to IT/OT integration and the adoption of edge computing. Dyke, Allied Telesis, says "This requires evolving the network to develop a unified infrastructure with high performance and security architecture and features to protect the most sensitive part of the company – the production. Building management is facing a serious challenge due to the increases in energy costs. One way to minimise this impact is to take a 'Smart Building' approach, where all of the different services depend on a reliable network. From the monitoring of all building aspects, PoE lighting, DVS and access control, it is the network that is the core of the smart building. This will be a revolution in the management of the building but will offer the enormous benefits of lower energy consumption, improved occupant comfort and safety, and increased building occupancy."
There are three initial areas; transportation, telehealth and entertainment that will face the most significant changes says Carlini, Schneider Electric: "In transportation, applications will include facial recognition for ticketing/access, physical security and contact tracing. In telehealth – video and AR will be used for appointments as well as training and robotic surgery. This is a topic that is very interesting, as technology has had a long battle being integrated into healthcare. Within entertainment, ultra-high-definition (UHD) video (4K and 8K) on mobile devices, as well as VR and AR entertainment applications, and users seeking to watch video/movies in 3D, 360° video and 3D techniques, including hologram videos, will drive major change."
Carlini suggests that personalised applications will also be a hot topic in 2023. "As higher capacity and edge data centres proliferate, and new 5G and WiFi-6 networks allow for more IoT and AI leveraging not only sensors but high-definition video, a much more personalised experience is achievable.
"In 2023, everyone will be talking about the Multiexperience – creating a seamless user experience, with one application, across a variety of digital touchpoints. These include websites, mobile apps, chatbots, augmented reality and virtual reality (AR/VR). Moving from device to device continuously or having the device remember where you left on your mobile, tablet, wearables, car or computer."
Evolution of 5G, if and how will the network landscape change?
Fridström, Arelion."As a backbone provider, we don't see the evolution of 5G having a significant impact on how we operate. We are always planning for the future bandwidth and traffic needs of our customers and the wider internet. In the same way that we were ready for the huge uplift in traffic linked to streaming services and the pandemic, we are always looking at how traffic might evolve and making sure the capacity and performance is in the network. Whether it is 5G or the metaverse, these are just additional sources of network traffic to build into our plans rather than requiring any fundamental change. It is business as usual for backbone operators."
Dyke, Allied Telesis: "5G and WiFi are seen as competitors when it comes to coverage for mobile user services, these are currently competing in outdoor solutions where WiFi is not an option (eg data transmission outside a company). 5G will try to erode the WiFi market by moving in the direction of traditional WiFi services, starting from company outdoor access, and then to the non-controlled temperature environment (eg warehouses). Ultimately, it will then try to take some space in indoor access. In response, WiFi will evolve from 6 to 7, to improve performance and maintain its market, and to always be able to deliver higher speed within its coverage area."
Steven Carlini, Schneider Electric: Although we still don't have a killer application to drive high-band mmWave 5G, many companies are starting to build out mid-band 5G, which is picking up speed, literally.
"Mid-band offers a balance of speed, capacity and resiliency. Coverage has been expanding – quickly – and most leading service providers are moving quickly. Both 5G radio access networks and 5G network cores are coming online, and when both cores and access networks become true 5G service, this will be a configuration known as 5G Standalone or 5G-SA. The use of 5G network cores will also complete the shutdown of 3G networks, freeing up additional spectrum for 5G-SA networks.
"While the world is still anxiously waiting for the "killer application" that will drive high-band 5G investment, some analysts are bullish. McKinsey and Co predict that by 2030, only one-quarter of the world's population will have access to high-band 5G coverage and that the rollout will cost $700 billion to $900 billion.
What new trends do you think will emerge or consolidate over the next year?
Pullen, CyrusOne, feels that significant developments regarding the consolidation of the data centre industry will be seen in 2023. He says: "This will eventually result in a number of closures, particularly of smaller players. While this will present challenges for some, I think this will act as a reset for the industry, allowing the market to normalise once again."
Dyke, Allied Telesis, believes WiFi will continue to grow as the main access technology, "It will require a more powerful infrastructure and advanced feature set to support the growing demands of the user. The capability to manage mobility, device location, and the capability to adapt autonomously to environmental changes will be the main characteristics of new wireless solutions. To accommodate this increase in complexity, smart network management tools – incorporating elements of artificial intelligence – will become more widely adopted."
Carlini, Schneider Electric: "Both IT and Telco service providers are trying to expand their level of services. Internet service providers can put new, smaller, distributed cloud data centres closer to the user to offer a better experience in the form of increased redundancy and reduced latency. Traditional Telco providers are also starting to leverage the internet by adding more services through internet-attached computing. In the future, we expect that internet-attached, legacy Telco data centres and distributed cloud data centres will converge into Multi-access Edge Computing (MEC) facilities.
"When Telco base stations offer software-defined services (as with 5G slicing and NFV), they are called MEC/edge data centres, and when distributed cloud data centres include Telco controls, they are called MEC/Edge. MEC/edge acts as a data centre that operates both IT cloud services and Telco functions and controls at the Networks Edge. These will be owned and operated by service providers."
Pestridge, Telehouse believes organisations will leverage connected ecosystems to support the growth and resilience of their IT infrastructure. "By integrating on-premises, colocation, cloud and edge delivery options, they can extend network reach while improving performance and reducing latency and costs. Telehouse recently found that 28% of IT decision-makers prioritise connectivity when picking a data centre provider – a figure that is only set to increase as more businesses realise the benefits of having the right connections."
What new skills will be needed to deal with innovation?
Fridström, Arelion."For operators, one of the biggest changes is the move towards more open and disaggregated networks, which creates huge opportunities for transparency between networks on performance, and the ability to mix hardware from different manufacturers, to name but a few. Coupled with this, operators are now embracing ethernet across their networks, which is great news for customers, and means that network engineering skills that may have been lost within enterprises are going to be more important moving forward. Whether it is working with routing software or managing ethernet networks that extend across backbones, these skills will be key and have been largely lost to the hyperscale cloud providers. Now they are needed back in enterprises."
There will be a need to evolve the skills of the IT team says Dyke, Allied Telesis: "IT engineers will need to be able to dovetail from network management to network security, but also to take control of all other services that run over the network (eg DVS or Building automation). To enable this new skill, a new family of tools are required that can automate large parts of the IT activity, providing a complete vision of any aspect of the network in a simple way and recommending the actions the human operators should take. Ultimately, these actions will also be automated once full intent-based management tools become mainstream.
Sustainability skills will also need to be developed, and quickly says Carlini, Schneider Electric: "Building out distributed edge and MEC/edge data centres at scale is emerging and needs to be accomplished in a cost-effective, resilient and sustainable way. Deploying MEC/edge data centres at scale poses unique challenges related to power and cooling, remote management and environmental impact, due to a wide variety of locations and environments. To protect the planet, service providers must elevate sustainability from a concern to a core value to minimise energy use, GHG emissions and waste."
Pestridge, Telehouse refers to the IT and digital skills gap: "Smart outsourcing will plug IT skills gaps. With the IT skills gap set to continue through 2023 and beyond, organisations will need to embrace more innovative ways of attracting, developing and retaining new talent. At the same time, more businesses will outsource their IT infrastructure to a trusted provider, leaning on the knowledge, experience and expertise of colocation data centre operators. This will help fill IT skills gaps in-house, while also providing greater levels of resilience, uptime and cost efficiency during the challenging years ahead.
Networks and security, are they an ever-stronger combination?
Fridström, Arelion says that many companies focus on endpoint security, but network security is vital to address the evolving attack vectors of the modern threat landscape. "Our 2022 threat report shows that attacks are decreasing in frequency yet increasing in size and sophistication. Due to these trends, 24/7/365 automated network security is critical for high-risk industries, namely automotive manufacturing and banking, where large Distributed-Denial-of-Service (DDoS) attacks present dire consequences. At Arelion, we're working to enhance DDoS mitigation as the public internet becomes the preferred underlay for many companies. It is worth noting, too, that we are seeing some very exciting developments in the field of quantum security that will be hugely beneficial, such as new ways to transmit encryption keys. These may not be as sci-fi and futuristic as people think."
"Global carriers will see growth potential in the enterprise market amid increased spending on cloud Infrastructure-as-a-Service (IaaS) to enable digitalisation, projected to reach $118.8B by 2025. With this increased spending, there will be a need for enhanced security on the network as more non-latency sensitive data travels the public internet. Enterprises will also need more network diversity in their connectivity services because added diversity removes a single point of failure for network outages. Enterprises will increasingly bypass local providers and purchase raw bandwidth and cloud services from carriers to access the benefits of diversity and security backed by a global networking footprint."
Dyke, Allied Telesis, says, "Protecting the network means protecting the first line of attack, and this will become more and more important. Firewall and AI-based systems able to detect attacks, together with autonomous security systems able to take immediate action and create a self-defending network, will become the obvious way to protect company assets.
Not only should network devices be developed and optimised for security and data privacy, but the network itself must be designed, implemented and managed with security as a chief concern. Carlini, Schneider Electric, expands, "Securing access to edge IT sites begins with basics like the use of a virtual private network (VPN) that employs encrypted tunnels, implementing firewalls and using access control systems. These networks should be implemented using a "defence-in-depth" network (DDN) design. A DDN approach secures edge computing functions and maintains the availability of those functions and communication paths. The strategy of DDN for the edge is to develop security zones with different defensive elements in each.
"Another recommended practice related to network design is the use of intrusion detection system (IDS) appliances placed at each edge computing site. These can detect potential malevolent traffic that could potentially damage, disrupt service and impact availability to the edge environment. Secure Access Server Edge (SASE), which combines SD-WAN deployments with embedded security specifically designed for edge deployments, will be critical to increase the strength and security of networks."
Networks Europe would like to thank Steven Carlini, VP of Innovation and Data Centre, Schneider Electric, Chris Dyke, Sales Director UK & Ireland, Allied Telesis, Mattias Fridström, VP, Arelion, Mark Pestridge, Senior Customer Experience Director at Telehouse, and Matt Pullen, EVP, Managing Director, Europe at CyrusOne for the insights and contribution to this article.