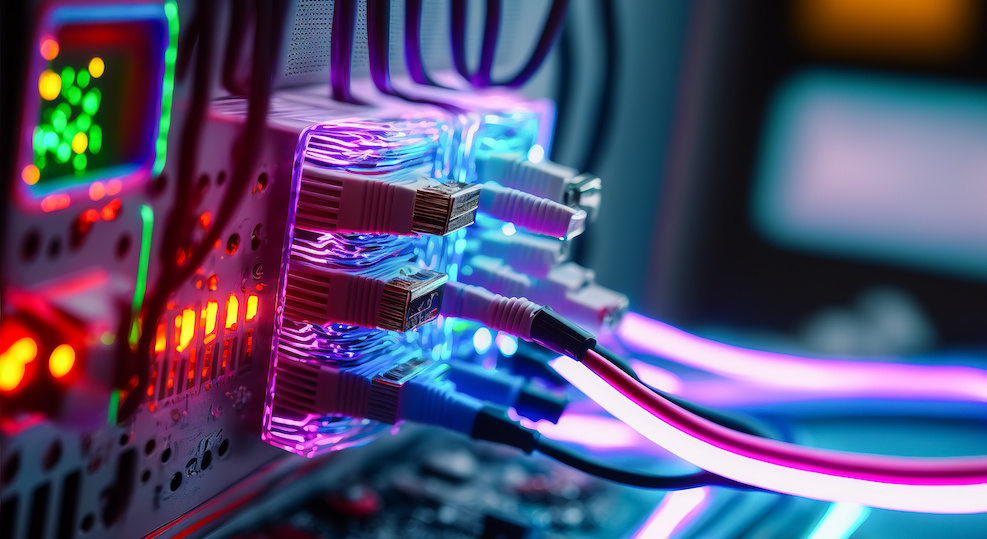 Andreas Rüsseler, CMO of R&M
At the turn of each year, Reichle & De-Massari research technology and market trends in the Data Centre, FTTx and LAN areas.
FTTx: powerful demand and tech convergence will keep driving fibre
Demand for fibre cable will continue as AltNets and incumbents keep investing, with government support widely available. The FTTH market will grow and we're seeing a fast-increasing need for fibre to the antenna, small cells and macro cells, smart homes, offices, and cities. Fortunately, these applications don't all require discrete networks – increasing convergence will deliver important synergy gains… FTTH and 5G for example, can share network infrastructure to increase efficiency and realise cost improvements in the coming years. A 2019 FTTH Council Europe study shows that anticipating a Fibre to 5G Antenna/base station (FTT5G) network while planning for a FTTH network can deliver savings between 65% and 96%. Upcoming 6G and WiFi 7 will further push bandwidth demands.
Smart city infrastructure, with countless IP-equipped devices that need extremely low latency, will become an increasingly significant driver. Data volumes and latency demands are constantly increasing as a result of the growth of digitalisation and urbanisation. In line with the convergence trend described previously, wireless and wired networks, FTTA and FTTH, traffic regulation, urban infrastructure management and monitoring networks can best be supported with a city-wide, application-independent Universal Fibre Grid. Infrastructure requirements and functions can be bundled in the planning phases to support economies of scale and avoid unnecessary and costly work, and infrastructure costs.
Aerial networks' potential 2.5x faster rollout speed using existing telephone or electricity poles can also help accelerate deployment while keeping down deployment costs in today's environment, in which both skilled labour and rural area investments are lacking. Aerial cabling offers an attractive CAPEX/ OPEX ratio and lower cost, and easier, more cost-effective planning permission, civil works, maintenance and repairs. This requires pre-terminated solutions that don't require special tools and training. Aerial solutions can play a very important role in connecting countless 5G access points, or 'small cells', to fibre broadband networks in areas with low population density and very little existing infrastructure.
Investments in offshore wind and solar are expected to drive demand for fibre for control, monitoring, distribution and maintenance optimisation and sensing applications in renewable energy production. Fibre consumes a relatively small amount of resources and can also enable energy efficiency in other areas. For network owners, the energy-saving potential of fibre and the use of products designed with sustainability in mind during production, transport, usage and recycling can be key to supporting corporate CSR and environmental policies.
Data Centres: new solutions for demand-driven technology
To meet bandwidth demand, 100G and 400G might be standard sooner than we think. As the move to 400G/800G continues, DCs are determining infrastructure future readiness. 40G/100G require eight fibres in parallel pairs, but higher speeds require 16 or 32 pairs, which boosts cable density. Smart migration paths, high-density-friendly products, preconfigured solutions and monitoring/asset management will be needed to support 400G/800G. Cables are difficult to manipulate in densely packed racks and it's harder to see what you're doing. Solutions such as pre-term cabling and new push-pull fibre connector types significantly reduce handling and installation time and guarantee functionality. Preconfigured cabinets fitted with power, cooling, security and connectivity offer a neat solution for modular DC approaches.
Fibre allows operators to migrate to higher speeds relatively quickly and easily. Local networks can establish long-distance connections via a fibre backbone, providing fast, high-capacity connectivity between DCs, edge DCs, and end users. To realise the required speed and reliability, countless applications require real-time data processing close to where the action is. Hybrid data centres can provide this by offering a combination of virtual, physical (on-premise), and cloud infrastructure. Depending on their needs, businesses can combine edge DCs with main and local data centres. This approach brings vast scalability and flexibility.
As data centres become more complex, provide more functions, and demand greater flexibility – up-to-date, accurate knowledge of available infrastructure is a must. The ability to demonstrate the lifecycle of DC assets for compliance purposes is essential. Operators want to know how fast new services or functionalities can be switched on, and that these will work as intended right from the start. Installation managers also need to know how each port is connected to prevent security issues. The impact of data centre builds or expansions on local power grids may become a key factor in planning approvals.
Worldwide, organisations are working on reducing or eliminating CO2 emissions. This requires ongoing measurement of energy usage and factors such as temperature. Furthermore, besides traditional drivers such as shortening mean-time-to-repair, predictive maintenance, energy efficiency and optimising utilisation, data protection is now also an important consideration for DCIM. Increased vulnerability to security breaches also makes monitoring of physical infrastructure and ports essential. We're also seeing more cloud-based DCIM systems appearing. A key driver for DCIM is the need for information required to forecast capacity requirements.
LAN: ever-changing functionality and ongoing integration
Within a few years, communications networks will share a unified 'holistic fibre' backbone, merging data and building control. Drivers include IoT incorporating digital building management, 'All-IP', and Digital Ceiling networks. IP-based convergence enables sharing of (virtualised) resources across applications and provides high levels of standardisation, availability, reliability and support for new deployments, as well as enhanced flexibility, scalability and uniformity. Centralising management of IT resources provides enormous technical and business efficiency increases by consolidating systems, boosting resource utilisation rates, saving energy, lowering costs and making the most of system intelligence.
An 'All-IP' approach extends the data network and PoE through a building's ceiling, making it possible to connect devices to building automation via pre-installed overhead connecting points. In Smart buildings, 'All over IP' will become widely adopted, merging building automation cabling, data communications, IoT and more – using both copper and fibre. Unlike legacy field bus systems, All over IP supported by PoE and Single Pair Ethernet brings better development possibilities for smart buildings, facilities and factories.
The uptake of Single Pair Ethernet (SPE) cabling based on xBASE-T1 using a single twisted pair for data transmission is expected to keep growing in building automation applications. SPE enables the integration of field devices, sensors and actuators into an existing ethernet environment, without extra gateways and interfaces. As building management becomes increasingly digital and IP-based, SPE will support new network structures for the cabling of the final metres. SPE can transmit up to 50W along with data and control signals (Power over Digital Line, or PoDL) – ideal for Industrial Internet of Things (IIoT) applications.
LAN Bandwidth, Power and Length performance demands are growing. Bandwidth challenges include high-frequency transmission for 10 to 40 Gigabit/s, reliable remote power supply for PoE and comprehensive Ethernet/IP coverage. PoE needs to deliver ever-increasing levels of power, which brings management considerations. SPE can partly supplement existing cabling but can't always replace RJ45 technology. Well-informed decisions on a case-by-case basis are needed. You won't find a solution to all of these challenges based on one single development!
Through sensors, data and alerts, LAN-enabled IoT can help monitor and manage energy usage to reduce carbon output without impacting comfort or quality of living. To be more energy-efficient, buildings need to become smarter. IoT (Internet of Things) with built-in intelligence, AI integration, and data collection is rapidly changing Building Automation Systems, helping save energy, increase sustainability, shorten response times and ensure easy customisation, which makes buildings more manageable, flexible, and future-ready.