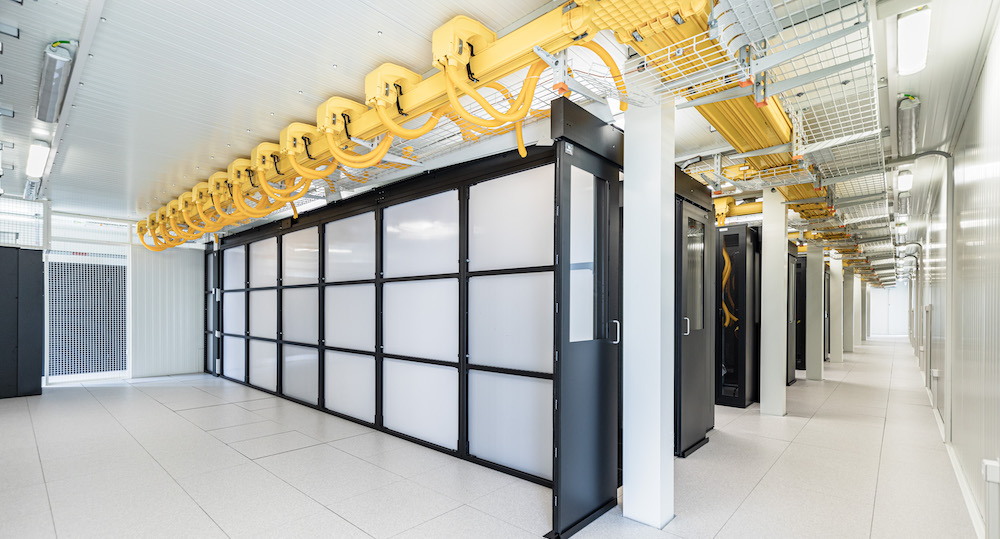 Prefabs offer speed, scalability and efficiency, says Alex Brew, regional director, Northern Europe at Vertiv
As the world's demand for digital services continues to surge, the data centre industry is undergoing an extraordinary transformation. In this rapidly evolving landscape, data centres are embracing a new era of innovation by turning to prefabricated modular solutions that offer unprecedented speed of construction, scalability, efficiency and cost-effectiveness. These groundbreaking designs are reshaping the industry and revolutionising the way data centres are planned, deployed and operated.
Traditional approaches to data centre construction and expansion are being challenged by the emergence of prefabricated modular data centres. These innovative solutions provide a range of benefits that traditional data centres struggle to match. By harnessing the power of modularity, data centre operators can unlock new levels of agility and adaptability, enabling them to keep pace with the ever-changing needs of businesses and consumers.
In this article, we will explore the possibilities that prefabricated modular data centres bring to the table. We will delve into the advantages, challenges and opportunities presented by these transformative designs, offering valuable insights to navigate this dynamic market.
Understanding standardisation versus localisation
Before we look at specific benefits of standardisation, it's important to understand the subtle difference between standardisation and localisation.
A prefabricated data centre is a modular, pre-engineered facility that is built off-site and then transported to the desired location for quick and efficient deployment. Hyperscalers across the globe are increasingly using this approach to benefit from accelerated deployment timelines and streamlined operations. However, while this practice may be more acceptable in areas such as the US or certain parts of EMEA, where there is a stronger level of cohesion across various industry practices and regulations, global organisations need to consider the requirements of each region before deploying a standardised solution.
The alternative is a localisation approach, where a standardised design is customised to comply with all local requirements. This way forward is particularly appealing in regions with unique building codes, standards and regulations that can prove challenging in traditional installations, potentially slowing down deployment. By localising a solution, organisations can simplify compliance with local requirements and accelerate the deployment process – while still reaping many of the standardisation benefits.
While standardisation offers benefits such as consistency, scalability and cost efficiency, localisation helps with compliance and adaptation to regional regulations and preferences – and striking the right balance is crucial for successful data centre deployments across different territories.
It's important to consider the environmental impacts of the processes. And, as efficiency and sustainability continue to be prominent topics across all regions within EMEA, hyperscalers are exploring how data centres can benefit local communities – for instance, utilising waste heat for district heating or vertical farming. Incorporating sustainable materials and manufacturing methods into prefabricated solutions will also help to strike a better balance in the future.
Exploring the benefits of this new approach
The data centre industry revolution is being driven by the rise of prefabricated modular designs – so what are the benefits operators can expect from taking this approach? One key benefit is their ability to integrate critical components, such as advanced cooling systems and power distribution within controlled factory conditions. This approach allows for parallel construction processes, significantly reducing the time required for on-site assembly and integration.
With each project, assembly staff gain valuable skills and insights, honing their expertise and discovering better installation solutions. The result? Expedited deployment that enables businesses to swiftly respond to changing needs, whether it's sudden increases in data processing requirements or the establishment of new locations. The flexibility and adaptability of prefabricated modular data centres make them a powerful tool in the arsenal of modern businesses.
These innovative designs bring additional advantages that set them apart from traditional data centres. They have a positive impact on the Total Cost of Ownership (TCO) and reduce the physical footprint. The modular nature of these data centres enables organisations to scale their infrastructure in line with demand, avoiding overprovisioning. By using modular uninterruptable power supply (UPS) and cooling systems that can be expanded as the IT load increases over time, organisations can optimise their resources and achieve cost savings.
Security is a paramount concern for data centres, and prefabricated modular designs address this concern from the outset. By constructing the units off-site and implementing security measures during the manufacturing process, these facilities are delivered with security already in place. This proactive approach mitigates risks and avoids potential vulnerabilities or delays associated with retrofitting security measures after installation. Data centre operators can rest assured knowing that their facilities are equipped with the necessary security features, enhancing overall reliability and integrity.
The advantages of modular data centres continue to stack up. In addition to the benefits already mentioned, they also allow for parallel building works to take place while the unit is being constructed off-site. This parallel construction approach saves time and increases efficiency as various components and systems are fabricated simultaneously. Electrical and mechanical works can progress alongside the construction of the modular unit, resulting in reduced project duration. Design and installation can also be certified by an independent body in the factory before dispatch, ensuring compliance with industry standards and regulations. Operators can seize the opportunity to test and inspect the data centre at the factory, assessing quality and functionality before it reaches its final destination.
An adapting industry
As the data centre industry continues to evolve and adapt to the growing demand for digital services, the adoption of standardised construction practices in prefabricated modular data centres holds immense promise for operators. By embracing modular components and building blocks, the industry not only gets uniformity in design and infrastructure but also optimises resource use, leading to cost savings and improved operational efficiency.
However, achieving these goals requires collaboration and knowledge sharing within the industry. Operators, manufacturers and stakeholders must come together to share their experiences, insights and best practices. This collective effort can drive innovation, facilitate the development of industry standards, and establish benchmarks for excellence.
Investment in research and development is also crucial for the industry's continuous improvement. By investing in cutting-edge technologies and exploring new solutions, the industry can push the boundaries of what is possible in data centre design and operation. Collaboration between industry players, research institutions and technology providers can also accelerate innovation and drive the industry forward.
Ultimately, the industry's future of prefabricated modular data centres lies in embracing standardised construction practices and fostering collaboration. By working together, sharing knowledge, and investing in research and development, the industry can unlock new levels of efficiency, scalability and adaptability. As the digital landscape continues to evolve, the data centre industry must remain at the forefront of innovation to meet the growing demands of businesses and consumers alike.