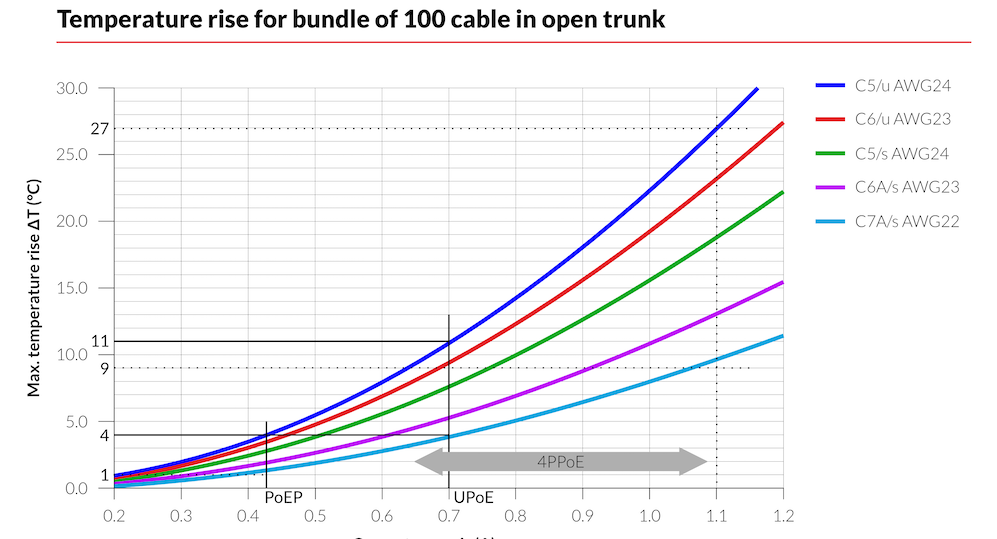 By Rod Arnold, sales manager UK, Geoff Dear, technical manager UK&I, Fatholah Zaki, LAN & data centre sales manager – R&M
Anyone working with installation who needs to support power over ethernet should be looking at remote power categories RP1 to RP3, the latest remote power standards from EN 50174-2 (for Europe) and ISO/IEC 14763-2 (globally applicable). 
These provide project managers with essential guidelines and requirements when designing PoE installations – and adhering to them will avoid significant trouble in the future. What can we do to ensure remote power compliance? What benefits does this bring in the short and long term? 
During planning and installation, the selected remote power category needs to be considered. Of course, the selected cabling products must meet the requirements, but this is less of a challenge. The average permitted DC current in any given cable bundle in the network installation determines the RP category – the higher this is, the greater the current that can be handled. Every time a PoE device is connected, compliance with the maximum permissible current must always be checked. With RP3, cabling is already configured during the planning phase so that all cables can transfer the maximum PoE current at the same time. This makes the system very safe. 
Fast growth of PoE drivers
We expect that eventually, practically every contract will specify that RP3 category-compliant solutions are to be applied for newly built systems. The fast rise of smart buildings, smart city infrastructure, and all the IoT-related equipment that supports this, is a huge driver for PoE. We're seeing fast-increasing consolidation of functionalities on a structured cabling backbone within buildings, and this will rapidly expand to encompass groups of buildings and networks.
The most recent type of PoE – 4PPoE – can supply up to 90W on each PoE port (with a minimum of 71W at the powered device). This allows support for devices such as laptops or TVs. Assurance that the cable bundle will not overheat is essential for RP3 compliance. Every cable in a bundle needs to fully support PoE at the highest level and every cable in that bundle must be able to carry that burden simultaneously. However, undue resistance unbalance will increase the RMS current of a cable and therefore invalidate the RP3 calculation and planning. The challenge for the planner is to ensure that the attenuation budget for data transmission can always be adhered to with RP3 cabling and that the permissible temperature in the cable is not exceeded. This can be achieved for example by adjusting the link lengths. The shorter the cable link, the lower the resistance, heating and attenuation losses during data transmission. 
Avoiding resistance unbalance
Differences in resistance between wires in cable pairs are widespread in LAN cabling, which can have a negative effect on the delivery of PoE. Unbalanced resistance in a cable pair, or between cable pairs, may be caused by substandard cable and connector manufacturing, poor installation practices at the point of termination, or unreliable termination technology that degrades over time. In the worst case, unbalanced pairs can introduce signal transmission failure due to induced insertion loss in transceivers. The signal transformers of active equipment can easily be saturated by the DC current and fail to receive data sent along lines if the power is mismatched on that same pair. 
Another issue (albeit less serious) is heating of cables and the Power Sourcing Equipment (PSE) which supply DC power and data connectivity. This can reduce equipment lifetimes, waste power, and lead to unreliable power provision. The thermal loads can only remain in check if resistance unbalance is minimised.
Fortunately, resistance unbalance testing verifies the deviation in resistance between each of the cores in a twisted pair. However, although ISO 11801-1 (6.3.3.7. Direct current resistance unbalance) defines maximum resistance unbalance figures, it specifies this element to be tested as optional. Testing offers insight into pair resistance unbalance, which expresses how much the DC resistances of the conductors of a pair differ from each other. Due to the critical nature of resistance unbalance in links requiring remote powering, this test may become mandatory in future editions of the standards.
Previously, the advice has always been to test the permanent link and then attach standards compliant patch cords. However, this may present problems for PoE, if cords and their connectors present resistance unbalance errors that are not tested as part of the complete channel. Therefore, we strongly recommend testing the complete channel in any system, with the patch cords in place. To use tested permanent links without surprises, one would need to choose specifically specified patch cords that have been designed to prevent resistance unbalance. For example, patch cords with IDC termination will ensure a reliable, low resistance wire termination over the entire service life of the cord. Fortunately, test equipment manufacturers are currently making it possible to test beyond the basic requirements of standards such as ISO/IEC 11801. Selected devices now provide options to test for additional parameters.
With PoE becoming increasingly widespread, supported by developments in systems convergence and 'all over IP', field testing is more important than ever. Resistance unbalance testing ensures installations support PoE without introducing data transmission issues or excess heat, making it vital to warranty agreements and avoiding costly equipment replacement and rework.  
Future-proofing PoE today
We've seen installations with multiple panel lighting fixtures drawing over 70W each – if heat generation is not correctly managed, that brings vast issues. Previous PoE versions powered much smaller devices such as IoT sensors and actuators, so this was much less of an issue. Whereas many buildings don't use PoE-powered lighting today, they will in the future, and to ensure that the network is capable of supporting that, you need to ensure Remote Power category RP 3 compliance today.
Although the standards were introduced in 2020: there's still not enough market awareness regarding RP category compliance and people don't always adhere to the specifications. 
However, as more and more equipment is introduced that requires 4PPOE, networks incapable of supporting this will be scrutinised and installer contracts re-examined. If RP category compliance in line with EN 50174-2 and ISO/IEC 14763-2 hasn't been respected, a vast amount of costly and time-consuming rework might be required. If you plan and install with compliance in mind, using suitable products, your cabling system will be able to meet the ever-higher PoE requirements of today and tomorrow.