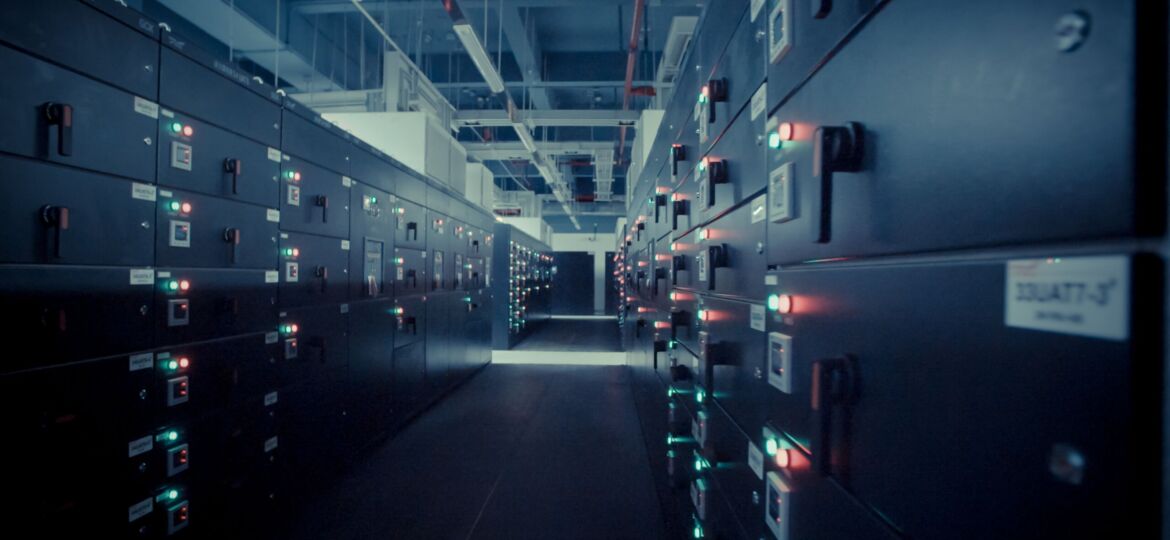 We asked Dave Sterlace, ABB's Global Head of Data Centre Technology, to explain how colocation data centre operators can scale up quickly, sustainably, efficiently and cost-effectively using a "pay as you grow" strategy.
What is "pay as you grow"?
Pay as you grow was developed from a growing necessity for speed of deployment in the data centre industry. Ten years ago, it typically took more than 24 months to build a new facility. However, a 2020 survey found that almost 40% of sites are now being deployed in less than 12 months.
Pay as you grow is when a data centre is built up in modular, fully-functioning, replicable system blocks. Once a block is close to filling up, a new one is then installed, allowing capacity to increase alongside demand.

What are the benefits of implementing this strategy?
A large upfront capital investment is replaced by smaller investments over time as new blocks are installed. This allows providers to make faster returns on their investments as blocks are installed in line with demand and revenue is generated faster. In turn, the data centre becomes more flexible to changes in the market.
Installing a new block once the last one reaches around 80% capacity ensures both time and energy efficiency. This ensures there aren't large amounts of unused capacity. This offers a more energy-efficient solution since less energy is wasted powering systems that are not being used.
Installing prefabricated, modular building blocks also decreases construction and installation times. This enables faster deployment of the data centre and reduces risk.
Lastly, using blocks that are consistent and repeatable in their design results in an overall system that is more reliable in terms of performance and maintenance.
What must designers consider before implementing this strategy?
First, designers must specify their preferred electrical topology to meet the system redundancy the operator needs. A system plus system topology gives high redundancy but is costly since it uses two separate systems to support the load. A block redundant topology, on the other hand, automatically switches the critical loads to a reserve system if the original supply fails, thus making the most of the electrical infrastructure. This makes for a more cost-efficient topology but increases design complexity. A shared redundant topology sits somewhere in the middle, where backup capacity across N number of loads is shared between N+1 UPS blocks.
Second, using smart/intelligent equipment capable of digital communication and control improves simplicity, making the process of scaling up much faster and simpler. Using a single fibre optic cable over multiple copper wire connections for example, can reduce wiring by up to 90% compared with the many point-to-point wires needed in conventional electrical systems.
Third, the equipment itself must be scalable. As an example, individual modules in UPS systems based on decentralised parallel architecture (DPA) have their own independent control systems and hardware. This avoids having a single point of failure since power can be rerouted as needed, so one or more modules can be down with no power interruptions. Hence why they allow for continuous power availability during maintenance and expansion, all for a low upfront cost.
Similarly, using gas-insulated switchgear (GIS) that can be extended without accessing the gas compartment avoids the need to use specialist contractors to handle and manage the insulating gas.
How fast can pay-as-you-grow be deployed?
GIGA's data centre in North Carolina is a good example of scalable equipment. Delivered with ABB's guidance, a system was designed to support 60MW of IT load.
Its first phase was delivered in 2019 in less than six months using a system plus system topology and two types of UPS to provide added flexibility and scalability.
A pre-existing TLE UPS was used to support IT server load. It is integrated with lightweight Li-ion batteries, which are an important feature as this UPS is installed on a mezzanine level. Because they can withstand high temperatures without additional cooling, the Li-ion batteries also support GIGA's objective to have an ultra-low Power Usage Effectiveness (PUE) of 1.15 to save energy and minimise operating costs.
The second UPS was a decentralised parallel architecture (DPA) UPS and was installed to support the site server load. The DPA UPS was selected by ABB for lower power requirements, as well as its scalability, allowing the data centre to expand in increments of 2MW.
Why is modularity so important?
Designing the system in a modular way from the outset improves scalability and reduces the impact on operations. Using systems installed in eHouses or mounted on skids for example, presents the opportunity to use prefabricated and transportable power modules. These can reduce on-site construction time by up to 30% compared to traditional methods. Fully pre designed eHouses or skids can further reduce build time by another 20%.
They have the added benefits of being a more cost-effective solution than traditional brick or cement construction, they are easily transportable, easily scalable and can provide a tax advantage since they can be depreciated as equipment rather than a building.
There is a misconception that the more modular solution, the less reliable it is. In my experience, the opposite is true. Compared to traditional building methods, modularity allows operators to check completeness and reliability as the project goes on. Since the manufacturers of the modules test them at the factory before they arrive at the data centre, rework isn't required on-site, helping eliminate inconsistencies and reducing risks, time and resources.
What are the potential challenges to watch out for?
Operators and designers need systems that integrate scalability from the outset. Volico, for example, wanted its new FLL1 Tier IV colocation data centre in Florida to have 99.9999% availability, as well as high reliability and dedicated server spaces for its customers. It approached ABB during the construction phase after finding that the original UPS was not suited to their plans to scale up their facility.
With our advice, they switched to a modular DPA UPS that can scale up in 100kW increments. Their chosen UPS can scale up to 500kW vertically in a single frame and up to 3MW horizontally.
This allowed Volico to provide "six-nines" availability for their customers, higher energy efficiency, and the ability to carry out maintenance on a single module without having to shut down the whole system.